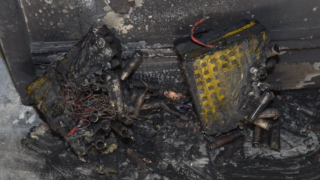 Fire investigators issued a warning for e-bike riders Monday following an alarming pattern of battery-sparked fires in New York City.
The FDNY put out photos from four fires the department says were started by lithium-ion batteries all in the past week. The recent incidents have fire officials warning New Yorkers to be careful when charging and storing the batteries.
"Lithium-ion batteries store a large amount of energy and can pose a threat if not treated properly. Like any product, a small number of these batteries are defective. They can overheat, catch fire, or explode," the department said in a social media post.
Firefighters responded to a fifth-floor fire of a Brooklyn building on Oct. 9, where 12 e-bikes were found charging. The FDNY reported four injuries related to the fire.
Three days later, one person was seriously injured in a 2-alarm fire when a fire broke out in a Bronx building. That same day another battery sparked a fire in Brooklyn, officials said.
The FDNY shared the following safety tips for lithium-ion batteries:
• Purchase and use devices that are listed by a qualified testing laboratory.     
• Follow the manufacturer's instructions for charging and storage.    
 • Do not charge a device under your pillow, on your bed, or a couch.    
 • Always use the manufacturer's cord and power adapter made specifically for the device     
• Keep batteries/devices at room temperature. Do not place in direct sunlight.     
• Store batteries away from anything flammable.    
• If a battery overheats or you notice an odor, change in shape/color, leaking, or odd noises from a device discontinue use immediately.   
These batteries are commonly used in cell phones, laptops, tablets, electric cars, and scooters.
Copyright NBC New York