The FDNY has released its annual Calendar of Heroes for 2017, and it's touting a newly expanded version that now includes EMTs and paramedics in addition to firefighters, and includes 12 months of both men and women.
"I'm proud that the 2017 is the first calendar the Department has produced which truly represents all of our heroes – the men and women who risk their lives as firefighters, EMTs and paramedics every day to keep New York City safe," Fire Commissioner Daniel A. Nigro said in a press release.
The Calendar of Heroes featured a woman for the first time in 2014, when Danae Mines, one of only 41 female firefighters at the time, auditioned for the 2015 Calendar of Heroes.
This time around, the 2017 calendar features 12 months of men and 12 months of women.
On the cover of the calendar featuring the women are firefighter Jackie-Michelle Martinez, paramedic Marilyn Arroyo, firefighter Jennifer Quinones and EMT Michelle Campbell.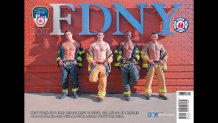 On the other cover are firefighter Andre De Cristo, EMT Matthew Herzog, firefighter Norman Bennett and EMT Vincent Oyangoren.
The calendar models will be signing purchased copies on Friday morning, from 11 a.m. to 2 p.m. at Herald Square. The calendar is on sale at FDNYShop.com.
Proceeds from the FDNY 2017 Calendar of Heroes go to the FDNY Foundation, the non-profit arm of the FDNY that promotes fire safety for New York City residents and provides professional development, training and education for FDNY members.
The FDNY says the organization has funded community outreach events that have brought fire safety education and CPR training to more than 740,000 New Yorkers so far in 2016.