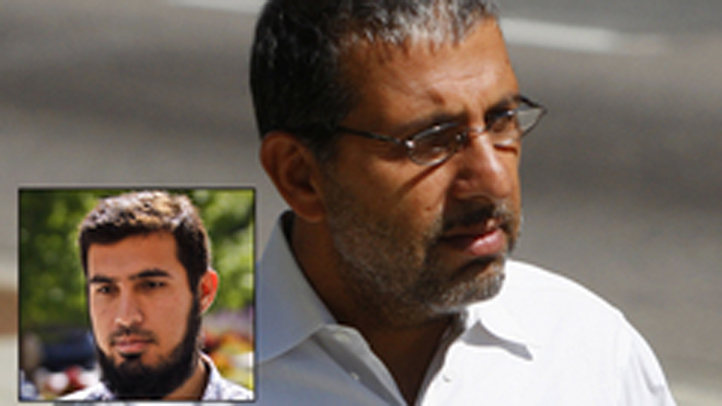 The father of an admitted terrorist was convicted Friday of charges he destroyed evidence and lied to investigators to cover up his son's al-Qaida-sanctioned plot to attack the New York City subways in 2009 as one of a trio of suicide bombers.


A Brooklyn jury found the father of Najibullah Zazi guilty of conspiracy and obstruction of justice at a trial detailing the disintegration of a working-class family of Afghan-Americans amid chilling allegations of homegrown terror.


Mohammed Wali Zazi had no visible reaction when the verdict was read. He faces up to 40 years in prison at sentencing on Dec. 2, although the term could be much lower under federal sentencing guidelines.


Leaving court, the 55-year-old former cab driver from Colorado told reporters he was innocent.


"There are so many things that didn't come out in court," Zazi, who remains free on bail, said without elaborating.


One of his attorneys, Deborah Colson, said the verdict was a disappointment and would be appealed.


"We will keep fighting for Mr. Zazi, and we will not give up," she said.


Said U.S. Attorney Loretta Lynch: "This defendant sought to conceal one of the most violent terror plots in recent times. . His actions, had they not been thwarted, would have left Americans at grave risk."


The case featured the testimony of two other family members who pleaded guilty and agreed to testify for the government to stave off stiff prison terms. They detailed the family's failure to acknowledge Zazi as a budding terrorist and its clumsy attempts to protect him once his plot fell apart.


The father was guilty of "lying and convincing others to lie to investigators and the grand jury, and destroying incriminating evidence that was crucial to the FBI's investigation," Assistant U.S. Attorney Melissa Marrus said in closing arguments.


Colson argued cooperating family members "falsely accused our client, Mr. Zazi, just to save themselves."


At trial, a cousin of Najibullah Zazi told jurors that while living in Pakistan he had introduced Zazi to a cleric there who arranged for Zazi and two childhood friends from Queens to get explosives and other instruction at an al-Qaida outpost.


Zazi admitted in a guilty plea last year that he returned from Pakistan to his family's Denver-area home to practice cooking up homemade bombs using chemicals extracted from beauty supplies. He then drove to New York City in September 2009 with plans to attack the subway system in a "martyrdom operation" before he learned he was being watched by FBI and fled back to Colorado.


The defendant's nephew and brother-in-law both testified how the FBI and immigration agents put the squeeze on the Zazi clan as soon as the plot unraveled.


When it became clear Najibullah Zazi was a suspect and family members were getting grand jury subpoenas, the cousin said "Uncle Wali" recruited him to get rid of plastic containers of peroxide and other evidence. The family agreed to code name the chemicals "medicine" in case the FBI was eavesdropping, he said.


He also claimed his uncle admonished the family, "If anybody asks questions, tell them we don't know nothing."


The brother-in-law recalled coming across Zazi's stockpile of bomb-making materials in his garage two months before Zazi set the plot in motion and confronting him by asking, "What the hell is this?" But he also claimed he wasn't suspicious enough to report it.


The elder Zazi's lawyers argued recorded phone calls showed the brother-in-law had a vendetta against their client because he believed the terror case had ruined his life. On one, he was overheard saying, "To hell with Najibullah Zazi."


The defense also accused the government of using testimony about the origins and aftermath of the subway bomb plot as a diversion.


"This is not Najibullah Zazi's case," Colson said. "The government put in all that evidence because they wanted to scare you."


She called her client "a proud, hard-working American citizen" who was shocked to learn his son was a jihadist.


The father "will have to live with that knowledge about his son for the rest of his life," she said. "It has broken his family apart, and it has broken him too."
Copyright AP - Associated Press