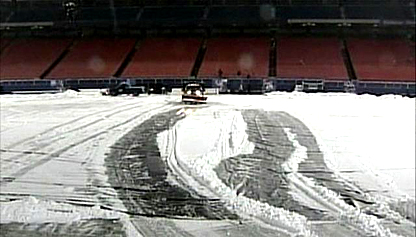 A fleet of snowplows, salt spreaders and at least 150 shovelers have been working through the night to clear snow and ice from Giants Stadium in time for Sunday's showdown against the Eagles.

The New York Daily News reports in its Sunday editions that several Giants fans were among the volunteers looking to make extra money. They worked alongside stadium crews who used 20,000 pounds of salt to clear the stadium field and parking lot.

Hasheen Clark, of Jersey City, tells the newspaper that the shovelers were planning to work through the night clearing snow and ice off the field to make sure it was ready by game time.

Saturday's winter blast was milder than forecasted, dropping about an inch of snow in Northern New Jersey.

Copyright AP - Associated Press