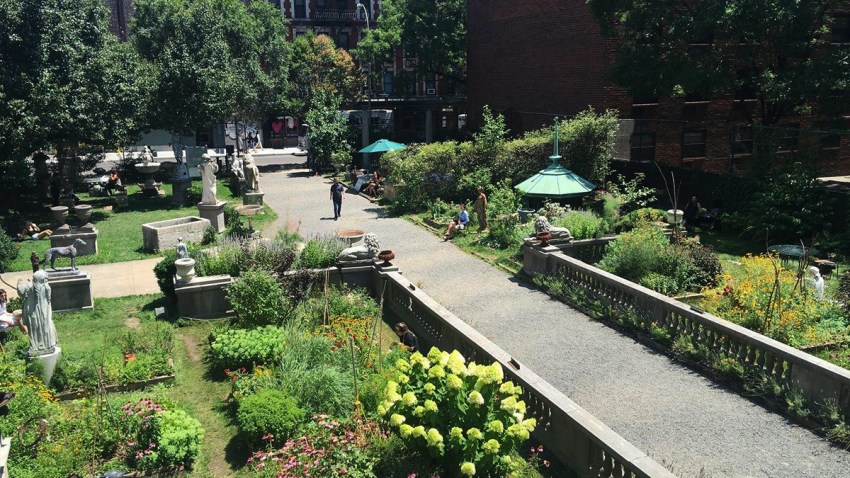 What to Know
A battle over a green space in Lower Manhattan is pitting advocates for green space against those fighting for affordable housing
Now advocates for the Elizabeth Street Garden are suing to slow the process for the green to be developed into housing for seniors
The garden has been earmarked for development into a seven-story building for low-income seniors
A small garden in Lower Manhattan has become the battleground for a heated debate that is pitting advocates for public green space against those who support affordable housing.
Now garden advocates are suing the city, which plans to sell the land to build a seven-story building for low-income seniors.
With much of Lower Manhattan making way for luxury retail space, offices and bistros, the picturesque sculpture garden nestled in between Elizabeth and Mott St of Little Italy has become a quiet refuge for neighborhood locals.
From a public school in 1822, to a dumping ground in 1970, and then to a private sculpture yard leased from the city by Alan Reiver in 1990, Elizabeth Street Garden has a long history of changing face. But it was only in the last five years that it bloomed into what it is today; a community sculpture garden offering volunteer-run organizations and services to the public.
But lurking beyond the idyllic garden scenes lies a polarizing dispute. The proposed demolition of Elizabeth Street Garden for the development of affordable housing units, office space, and luxury retail has in recent years pitted advocates for the public green space against those who support the affordable housing.
"And strategically so" said Joseph Reiver, son of Alan Reiver and executive director of the non-profit organization Elizabeth Street Garden, Inc. who said the strategy of pitting communities against each other has worked for developers in the past.
He refers to a similar case when the Harlem Mandela Garden lost to the city's development plans despite a large backlash from the community. "It's this common theme of the city not prioritizing public green space and really not prioritizing community based initiative," Reiver said.
Back in 2016, the city approved a Request for Proposal to develop Elizabeth Street Garden, and a year later awarded the project to Pennrose Properties who have teamed up with non-profit RiseBoro and Habitat for Humanity to create Haven Green.
This housing development would replace the 20,000 square foot sculpture garden with 77,600 square feet of affordable studio apartments, 11,200 square feet of Habitat for Humanity office space, 6,700 square feet of privately owned public space, and 4,400 square feet of luxury retail space.
The Haven Green development team says the merits of the development are indisputable. "With Passive House energy efficiency standards, on-site LGBTQ services, deeply affordable rents including 30 percent of units reserved for formerly homeless seniors, and a collaboratively designed publicly-accessible open space," it said in a statement to NBC New York.
According to Haven Green, all Haven Green units are reserved for people earning at or below 60 percent of the area median income, including units reserved for formerly homeless seniors. The highest bracket includes studios for $871 a month while the lowest bracket is set aside for formerly homeless tenants with supportive services provided by RiseBoro.
Last Tuesday, garden supporters filed a lawsuit against the Department of Housing Preservation and Development to stop the Haven Green development which is projected to be build by 2021. The lawsuit argues that the Penrose Project, "failed to take a hard look at relevant areas of environmental concern" and is therefore required to order a Environmental Impact Statement ("EIS").
Reiver said he thinks the ULURP (The Uniform Land Use Review Procedure) doesn't always work in favor of the people and creates an illusion of a democratic process, when in reality, community boards are only advisory and don't have the ability to veto proposals. "Why is [the community board vote] advisory if it's for community input?" he said, adding that he felt resorting to legal action was the only way to save the community garden.
This lawsuit is the newest step in the quest to save the garden and comes midway through a lengthy public review process that has been moving in favor of the development.
With 1.6 million people all living within the 23 square miles of Manhattan, local communities fighting against private developments isn't a new narrative, but it's nuanced stories like these that have historically compelled communities to address tough issues, question their priorities, and advocate for what they believe in.
Manhattan Community Board 2 voted in January to deny the application to develop Elizabeth Street Gardens, however, this vote is only advisory. Next, the proposal will go through the Manhattan Borough President's office -- whose vote is only recommended -- and then make its way to City Planning, then finally to City Council, which has been expected to approve the development.
City Council Member Margaret Chin leads the Council's Committee on Aging and represents the district home to Elizabeth Street Gardens. Supporters of the garden say that Chin has been adamantly shut-off to the idea of preserving the garden even though larger alternative sites have been proposed.
"I feel that people are upset and it pains me that I have to disagree with people that are so committed to their point of view," Chin responded, in an interview with The New York Times. "But there are seniors that don't have affordable housing and they helped build up our city. They helped build up our neighborhood."
As the battle continues, so does the procedure to develop the land. On Wednesday morning, the Haven Green senior affordable housing complex was proceeding to the next phase in the development procedure, appearing before the City Planning Commission for a public hearing.