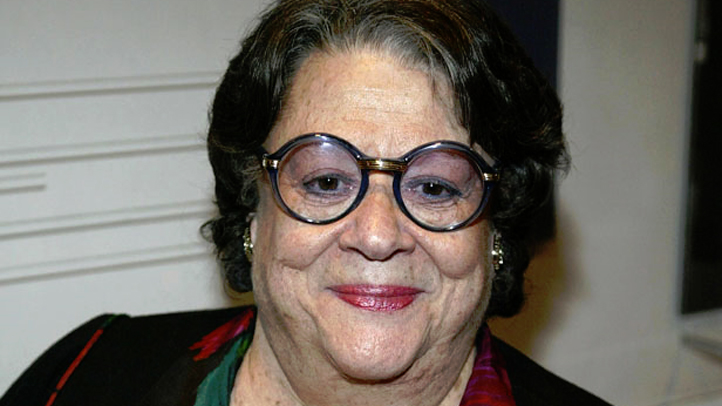 Everyone went to Elaine's — and now they'll have nowhere to go.

For regulars still mourning the death of Elaine Kaufman in December, the news that her namesake restaurant in Manhattan will close on Thursday has been a double blow.

They planned to gather one last time at the place where they ate so-so food while rubbing shoulders with the likes of Michael Caine and Woody Allen. And then they will be cast adrift.
"I don't know what many of us will do," said TV broadcaster Rikki Klieman, who was introduced to Elaine's by her husband, Bill Bratton, a former New York City police commissioner and Los Angeles police chief. "I guess we'll just have to stay home."

Elaine's was synonymous with plugged-in New York for the better part of five decades. "And they were all impressed with your Halston dress and the people that you knew at Elaine's," Billy Joel sang. The restaurant inspired books titled "Everyone Comes to Elaine's" and "Last Call at Elaine's."

For the regulars, Elaine's was more than a scene. It was a family, a club without dues, a dinner party with a glittering guest list.

"It was so comfortable for us because we were on the inside," said Kathryn Altman, who started going to Elaine's in the 1970s when her late husband, film director Robert Altman, was riding high after "M*A*S*H." ''It was like a club."

The club was not limited to boldface names. Dana Carey, who is director of event sponsorships for a trade publication, started going to Elaine's as a young woman nearly 30 years ago.

"I knew that every Thursday I could walk in as a single person and I would know about a third to half the restaurant," Carey said. "And everybody was always, 'Come sit with us, come sit with us.' There was no other place like it, where you would see an actor, a writer, a neurosurgeon and a former Mets baseball star, all sitting together, and the only common denominator was that they were an Elaine's regular."

Kaufman died at 81 after running Elaine's for 48 years. Longtime manager Diane Becker inherited the restaurant and tried to keep it open before announcing May 17 that it would close for good on Thursday.

"This is one of the most difficult decisions I've ever had to make," Becker said in a statement. "But the truth is, There is no Elaine's without Elaine."

The regulars said Kaufman's uncanny ability to introduce guests to the fellow guest they would most want to meet made it difficult to imagine the restaurant without her.

"If you were sitting alone, she would introduce you to somebody interesting," said Harry Benson, a Scotland-born photographer who arrived in America with the Beatles in 1964 and is currently shooting for Vanity Fair. "A detective who was working on the Son of Sam case. She never put you with some dreary person."

The food was not the selling point.

Allen, who shot the first scene of "Manhattan" at Elaine's, said through a spokeswoman that he was not available for an interview. But he told New York magazine at a screening of his latest movie "Midnight in Paris" that he went to Elaine's every night for decades "despite the unrelenting bad food." He added that "everybody went for conversation and meeting people and chatting, and that was the success of the place."

The décor was indifferent as well. The dark-paneled walls at Elaine's were festooned with the framed covers of books by authors who ate and drank there.

Celebrities like Allen knew that Elaine's was one place where no one would bother them. And there were plenty of celebrities.

"Catherine Deneuve used to go there when she was in town," Benson said. "Willie Nelson. Clint Eastwood. A lot of unlikely people."

Carey said she met her best friend, mystery writer Carol Higgins Clark, at Elaine's. She also met mystery writer Stuart Woods, whose protagonist is always having dinner at Elaine's.

Ruda Dauphin, the U.S. representative of France's Deauville American Film Festival, said she brought people by to show them off to Kaufman and to show Kaufman off to them.

"I brought in Buzz Aldrin," she said. "From the moon to Elaine's. He loved it."

Klieman said that Kaufman would tell her, "I think you might want to stay tonight" when she was expecting a Jack Nicholson or a James Gandolfini.

Her husband, Bratton, said the clientele spanned the range of New York life from writers and actors to the occasional mobster.

"The cast of characters could best be described as sort of a Damon Runyon crew," he said.

Many of the regulars have been returning to Elaine's every night since the closing was announced and planned to be there Thursday.

"Everybody changed their plans in order to be there," Klieman said.

They will exchange numbers and make plans to keep in touch, but it won't be the same.

"Everybody will eventually find a new place to go but we won't all find a new place together," Carey said. "We'll all gravitate to different places."

There may be speeches. There will surely be tears.

"It's like losing Elaine twice: first herself, then the living room where she conducted her nightly salon," Woods, the mystery writer, said in an email. "It was a club where the public were allowed to pay to watch the members dine, and the members liked that."
Copyright AP - Associated Press