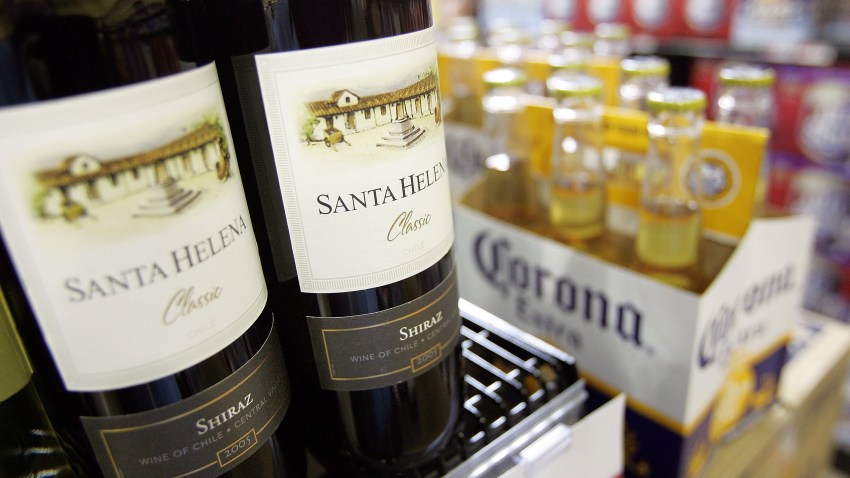 LAs the Finger Lakes wine country's pale-yellow hillsides turn green, Scott Osborn is flush with excitement this spring over another long-awaited prospect: Selling his wines in New York's grocery stores.
"People who don't even know we exist or that our wines are great are going to have this opportunity to discover us, and our whole industry will grow," Osborn said at his vineyard perched above fjordlike Seneca Lake in central New York.
Support is hardly universal for Gov. David Paterson's proposal to generate $105 million in new revenue over the next year by revamping state liquor laws. Even though wine is sold in grocery stores in 35 states, owners of the Empire State's 2,745 wine-and-liquor stores warn that 1,000 of their number could go under in Paterson's scramble to close a projected $16 billion budget gap.
And some winery owners fear sales of wine in the state's 16,000-plus grocery stores would cut into their business because better-known wines from California, Europe and Australia would crowd them out.
"The big winners will be the Gallos and Yellow Tails and Mondavis and Kendall-Jacksons, all the big brands," said Art Hunt, whose winery overlooks Keuka Lake, another picturesque spot in one of the nation's oldest grape regions. "I don't think more than a dozen New York wineries would benefit very much."
In his budget for fiscal 2010 - which begins next week - Paterson has proposed raising wine tariffs to increase state revenue directly. He also wants to let bodegas, supermarkets and big-box outlets like Wal-Mart buy wine licenses in the hope of increasing overall sales.
Similar proposals have fizzled in Kentucky and Colorado and resurfaced in Tennessee and Oklahoma over the last year, according to the Wine Institute, a trade group in San Francisco. No state has changed course to let food stores carry wine since Iowa did in 1983.
But expanding wine franchises has helped the industry thrive in Washington, Oregon and California, by far the nation's largest wine-growing state, Osborn and others argue.
Even with heavy restrictions, New York's wine industry has grown from 21 wineries in 1975 to 261 this year, and supporters of changing the laws say it could grow much more, given the Finger Lakes region's fabled microclimate, which is ideal for growing cool-climate grapes.
With the exception of wine coolers - low-alcohol beverages made from wine and fruit juice that surged in popularity in the 1980s - wine sales in New York have been limited since the 21st Amendment repealed Prohibition in 1933 to wineries and liquor shops, now including a handful of stores that sell only wine.
Paterson's proposal is a "touchy issue because you're changing a way of life," Osborn said.
Confined to owning one store each, liquor merchants would be happier if the changes included letting them sell beer or deli foods or corkscrews. "We can't even sell shot glasses," said Greg Brown, whose family owns Good Spirits Discount Wine & Liquor store in Geneseo.
It was the anger of liquor store owners Osborn has relied on for years that led him to join the handful of vintners publicly supporting Paterson's proposal.
"I called him myself and just told him, 'I'm sorry, Scott, I don't want to do business with somebody who I feel is trying to put me out of business,'" said Brown.
Brown's store stocks about 340 wines from the region, he said, in contrast to what he suspects the Wegmans chain grocery next door would stock.
"Wegmans will only take on the top 50 to 100 fastest-selling brands nationally," Brown said. "I won't lose the upper-end business but the problem is their fastest-moving brands are also mine.
"Of the five liquor stores in my area, I'm the biggest. I'm hoping I survive. The other four, they won't survive. You've ruined an industry for a short-term money grab."
The measure's supporters say boosting excise taxes on wine sales from 18.9 cents to 51 cents a gallon and charging grocery stores licensing and franchise fees will accelerate the expansion of New York's $3.4 billion wine business.
"It's going to provide greater choice and convenience to consumers as well as provide a greater market for New York wineries," said Matt Anderson, a spokesman for the state Budget Division.
While Osborn has garnered acclaim for his European-style vintages, from Riesling and Chardonnay to Pinot Noir and Port, he realized soon after opening Fox Run Vineyards in 1993 he'd hit a distribution bottleneck.
In 2007, as the slowing economy began eroding sales in his tasting room, he began marketing his wines out of state, including to grocery stores in New Jersey and Virginia.
But those sales are expensive and still account for less than 10 percent of the 18,000 cases he produces each year. And New York's tight market constraints make it hard to attract investors, he said.
"Right now, if wineries want to grow, they can't," Osborn said.
Copyright AP - Associated Press