What to Know
The president has been spending time at his Bedminster, New Jersey, golf course, on a working vacation and is due at Trump Tower Monday
Donald Trump has been under fire for his response to weekend violence at a white nationalist rally in Charlottesville, Virginia
At least three separate rallies are planned outside Trump Tower Monday evening; protesters also marched Sunday in Manhattan
President Donald Trump arrived at his New York home for the first time since his inauguration as a throng of protesters lined the street.
The president's motorcade pulled up to Trump Tower on Monday night while avoiding the protesters, who chanted "Shame, shame, shame'' while awaiting him.
[NATL] In Pictures: Protesters March to Trump Tower Ahead of President's 1st Visit
Thousands of protesters had lined nearby blocks of Manhattan's Fifth Avenue to await him, along with a group of supporters numbering in the dozens. People chanted things like, "No Trump, no KKK, no fascist USA" and "Not my president," and held signs reading, "The Trump/Pence regime must go" and "Silence is violence."
"I never voted for him, and everything he stands for is against America," said protester Laura Dieter.
Supporters said, "God bless President Trump."
Police said three people were arrested near Trump Tower.
Security was heavy around the skyscraper: Streets were closed in the area, and massive sanitation trucks were lined up outside Trump Tower, acting as blocker vehicles. Metal barricades were set up across the street. Police sources say the department has an existing detail protecting the president's home and office at Trump Tower, and resources are flexible in the case of a protest or other unplanned event.
This is Trump's first visit Manhattan home and office since his inauguration. He has said he'd "love'' to go home to Trump Tower more often but it's "very disruptive to do.''
Some New Yorkers expressed their annoyance by the security measures: "You can't even hear yourself think. There's helicopters and cabs and traffic and God knows what else, and everything's barricaded."
Trump initially was supposed to head to the city Sunday, but briefly postponed the trip as deadly chaos unfolded amid a white nationalist rally in Charlottesville. It's not clear if that's why he delayed the trip to New York City, but the president has been under fire for his response to the violence.
[NATL] Dramatic Photos: Violent Clashes at White Nationalist Rally in Virginia
"It's important to stand up against racism and all the terrible things that happened in Virginia and across the country in the last few months," protester Sheila Kelly said outside Trump Tower Monday.
Two blocks away, in front of the Plaza Hotel, an artist collective called BravinLee set up a 15-foot inflatable balloon caricaturing Trump as a rat. The artists says on their website that "the inflatable rat, an enduring sign of resistance and ridicule, has been repurposed to help lead protest against Trump's policies."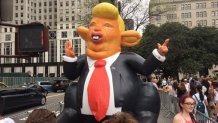 On Saturday, BravinLee posted a photo showing a Confederate flag on the sleeve of the inflatable figure and wrote: "#charlottesvillevirginia Our hearts are with you. As you can see Trump wears his on his sleeve." The balloon also shows a Russian flag pin.
John Post Lee told News 4 he came up with the concept three months ago and raised $10,000 in a Kickstarter campaign. An Ohio company made the balloon, and it arrived last week. Monday was the first appearance of the balloon out in New York. He says he wants to station the balloon at Grand Army Plaza for a few days, then move it around New York for a couple of months.
But the display only made Trump supporters wave their flags and banners higher. One said, "He is our president, and is doing a great job, in my opinion. People are induced by the media."
Another group of protesters nearby wore black and staged a mock funeral for the people and things they said the president was killing. They held signs reading things like, "We mourn our healthcare," "We mourn trans lives" and "We mourn our diplomacy."
The violence in Virginia Saturday stemmed from what is believed to have been the biggest gathering of white nationalists in a decade, a movement in protest of the planned removal of a Confederate monument. A young woman died when a driver intentionally plowed into a group of counter-protesters; two Virginia State Troopers patrolling the protests from the air died in a helicopter accident.
In a statement later Saturday, Trump addressed the violence in broad strokes, saying that he condemns "in the strongest possible terms this egregious display of hatred, bigotry and violence on many sides, on many sides."

A White House statement Sunday went further, naming "white Supremacists, KKK, neo-Nazi and all extremist groups" among the outlets he condemned, a sentiment echoed by Attorney General Jeff Sessions in a "Today" show interview Monday, but the president faced continued backlash for not personally and explicitly calling out those groups by name. He rectified that in an impromptu address from the White House early Monday afternoon, calling racism "evil" and specifically calling out the KKK, neo-Nazis and other supremacist groups.
Mayor Bill de Blasio and U.S. Sen Cory Booker were among the elected officials who had said Trump's response to the violence was not strong enough. Meanwhile, protesters marched in Manhattan Sunday, events organized by Black Lives Matter and Refuse Fascism, and more demonstrations were planned leading up to — and throughout — the president's trip to New York.
[NATL] Top News Photos: Pope Visits Japan, and More