Dozens of dogs moved from Houston-area shelters before Harvey hit are looking for forever homes in the tri-state area, and they are arrived at New Jersey's Morristown Airport Tuesday night.
The dogs left a San Antonio airport early Tuesday before arriving in New Jersey. The effort is to make room for animals displaced by the hurricane.
The animals were taken to St. Hubert's Animal Welfare Center in Madison, where they were able to eat, sleep and exercise. Vets will check out the dogs before they will be transported to more than a dozen animal centers throughout the northeast for care. Eventually, they will be put up for adoption in the weeks ahead.
"Our hearts are with the people and animals of Texas, and we and our partners will continue to help in the days, weeks and months to come," said Heather Cammisa, president and CEO of St. Hubert's.
A spokesperson for the St. Hubert's said moving the dogs from the shelters will help families affected by the storm stay close to their pets.
St. Hubert's works with the Humane Society to accept animals or send staff to emergency situations. The center recently tended to dogs from California after the massive wildfires last year.

More than a dozen dogs and cats rescued from Harvey-battered Texas have already arrived at Pet ResQ, Inc. in Tenafly, and shelter personnel say another 60 are expected to come in within the next week.
The animal shelter says it received seven dogs, five kittens and one Siamese cat around 3 a.m. Monday, as residents in Southeast Texas braced for more, historic rain and devastating floods.

The animals were saved from a flooded shelter.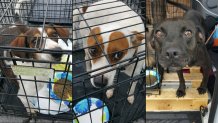 Anyone interested in adopting the animals at the Tenafly shelter is advised to email the shelter at petresqinc@aol.com.
[NATL] Dramatic Images: Floods Hit as Harvey Drenches Texas