Due to the coronavirus pandemic, the annual parade – which would've been celebrating its 50th year – has been forced off the streets for the first time in its history.
However, the celebration has gone virtual. An online rally kicked off a weekend of virtual events hosted by NYC Pride, with music and conversations about diversity and inclusion.
Even though the Sunday's parade was canceled, a Queer Liberation March for Black Lives and Against Police Brutality marched from Lower Manhattan toward Washington Square Park. The organizers are activists who held a protest march last year as an alternative to the main Pride parade, saying it had become too corporate.
"It's a great thing to see because the original Pride started with the civil rights movement," Matthew Fischer said as he passed out hand sanitizer Sunday at Foley Square. "So we're really going back to the roots of that and making sure we encompass everything that empowers people to be who they are."
A number of people in the crowd at Foley Square held signs reading "All Black Lives Matter," with a black fist surrounded by rainbow colors. Most wore masks, though some scrapped social distancing in favor of hugging friends. One man held a sign advertising free hugs.
Hours after the start of the march, police and protesters clashed, leading to the detainment of several people and reports of pepper spray and officers' use of batons to break up groups of people. It's the first violent confrontation in weeks of protests that have remained peaceful across all boroughs.
Tensions boiled over near Washington Square Park sometime after 4 p.m. News 4 cameras captured an officer push a person off a bicycle. The NYPD has not said what happened before or after the push. Earlier this month, an officer in Brooklyn was caught on camera pushing a protester; he was suspended and charged with criminal assault.
The police department confirmed three people were arrested for assault on officers, adding that the use of pepper spray and force on protesters transpired after cops tried to arrest one of them for vandalizing a police vehicle.
The chemicals in pepper spray left protesters in agonizing pain on the pavement. They say the use of force was an unnecessary escalation. "This was not [police] doing their job, this was them harassing people," protester Terra Warman said.
This year, there are still plenty of Pride flags hanging, people enjoying some time outside, despite periods of pouring rain, and able to grab a drink at the iconic Stonewall Inn, which has been struggling to stay afloat due to the pandemic. The rain did provide a beautiful picture of a double rainbow over the city where LGBTQ liberation movement began. What's missing on this final weekend of June: Pride parade set-ups.
Friday night in Greenwich Village presented a tamed-down version of the party-like atmosphere it 's known for this time each year, as the city ramped up to celebrate Pride Weekend.
"If you are watching and you are someone who can open up a door for someone who is less fortunate, be a champion for that person's potential," said activist Ashlee Marie Preston.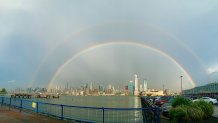 While NYC Pride organizers say 2020 is still a celebration, this year there are serious conversations to be had – about racism, and of violence against the transgender community, particularly those of color who are killed at a disproportionate rate.
"Whether it be racism, whether it be a marginalized community – it's really about us standing and being allies of those communities and those voices," said Paul Andersen, the owner of the Chelsea restaurant Champignon.
The smaller band of revelers (at least compared to other years) who went to the Stonewall Inn Friday evening said they're finding ways to keep Pride alive, and to join forces with the Black Lives Matter movement.
"The LGBTQ movement is a Black movement. It starts with Black life," said protester Joseph DeJesus.
Other celebrations of the day will be visual. At Rockefeller Center, more than 100 rainbow flags have been placed around the center rink, and the plaza was being lit up in rainbow colors.
In the West Village, a rainbow light art installation next to the Stonewall Inn will illuminate the sky in tribute to the uprising and the original march, as well as those who have marched and fought through the years.
50 years ago, that June 28, 1970, event itself was a marker of the Stonewall uprisings of the year before in New York City's West Village that helped propel a global LGBTQ movement.
Initially called the Christopher Street Liberation Day March, it looked much like the protests that have streamed through the streets of New York City daily in recent weeks over racial injustice. Marchers trooped to Central Park, chanting "Gay power!" and "Gay and proud!"
Copyright NBC New York/Associated Press