A Customs and Border Protection van marked "Field Operations" sat parked for hours outside a Legal Aid office in downtown Manhattan Thursday, sparking fears that federal agents were trying to ensnare undocumented immigrants visiting the office.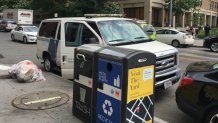 Redmond Haskins, a spokesman at Legal Aid, which contains an immigration law unit on Water Street, said the van stayed across the street for hours.
"We don't know what this van was doing by our office, but with DHS' mandate, we don't want to rule anything out," he told News 4 in an email.
"We're seeing all new tactics from the Trump administration to target immigrants since January," he said. "Just yesterday, two immigrants were picked up by ICE at Manhattan criminal court."
It turns out the van was there for a much more innocuous reason: CBP workers were enrolling people in its Global Entry program, which speeds travelers through the customs process at U.S. airports.
"The CBP offers mobile enrollment for companies that have more than 25 employees who want to enroll," CBP spokesman Anthony Bucci told News 4. "We were doing mobile enrollment for a company that just happened to be in the vicinity, in the Fulton Street area, and it was around the corner from Legal Aid."
Bucci declined to name the company, but said there are many workplaces in Manhattan that have employees who often travel internationally.
"We operate in the New York City area all the time," Bucci said of its enrollment initiative. "It's not unusual, we've been doing this in the last seven, eight years."
"The more people we get enrolled, the easier it makes our job to concentrate on those travelers who aren't safe for legitimate travelers."
He said he understands why Legal Aid may be sensitive to seeing the federal van in the area, but it was pure coincidence -- and, he added, "CBP would not operate like that. Maybe ICE or HSI, and we'll assist sometimes, but that's not our primary responsibility."
Global Entry allows expedited clearance for pre-approved, low-risk travelers, suing a passport and fingerprint verification. Applicants undergo a rigorous background check and an in-person interview before enrollment; the CBP van comes with equipment for mobile enrollment, according to Bucci.
So far this year, the New York field office of CBP has conducted 66 mobile enrollments, and nearly 3,700 applicants have been enrolled through the corporate enrollment program, Bucci said.