Two teen boys were gunned down Sunday in what turned out to be a bloody day of gun violence across New York City.
By Sunday night, at least 10 people had become victims of seven separate shootings in four of the city's five boroughs, according to reports by the NYPD. Three of those victims, ages 13, 19 and 24, died from their injuries.
The youngest victim was gunned down outside a cafe in the Bronx around 3:30 p.m. in the Belmont section. A law enforcement official says the shooter drove up to Angels Cafe, got out of the vehicle, and fired in the direction of the child. He appeared to be the intended target of the shootings, according to investigators, and no arrests have been made.
The second victim fatally shot Sunday was a 19-year-old male. Police responded to Quencer Road in Queens for the reported shooting just minutes after midnight. Police say the teen was shot in the left thigh and ultimately died at Jamaica Hospital. Another person who was shot and killed Sunday was also in Queens. NYPD officers found 24-year-old Dejuan Brown after 8 p.m. Sunday outside a vehicle on 111th Avenue and 200th Street. He was shot multiple times and no arrests have been made.
A triple shooting almost an hour later over in Brooklyn had police searching for a gunman in his 30s. Three male victims, between 33 and 58 years old, suffered varying gunshot wounds to their lower extremities on Fulton Avenue around 1:10 a.m.
The Bedford-Stuyvesant victims were taken to Kings County Hospital in stable condition.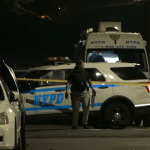 Police say it'd be another three hours before the third shooting of the day, this time up in the Bronx. A man and a woman were each shot in the arm on Jerome Avenue around 4 a.m., according to the department.
Almost eight hours would pass before a 47-year-old man was shot in Harlem around 2:15 p.m. at Frederick Douglass Boulevard and West 151st Street. Police say he was shot in the groin by an unidentified male suspect who fled the area on foot.
The next victim was in Brooklyn who police say was shot in the leg at Pitkin Avenue and Amboy Street. Police could not immediately confirm the victim's age.
No arrests have been announced by police officials in any of the other shootings on Sunday.
Copyright NBC New York