An 18-year-old son is behind bars and facing murder charges for allegedly shooting and killing his mother after police sources say a fight broke out during dinner at the family's Staten Island home.
Police say Minire Pelinkovic, 51, was shot around 6:15 p.m. Saturday at the home on Burbank Avenue. She was rushed to Staten Island University Hospital with a gunshot wound in her lower back, according to the NYPD.
Officers picked up and arrested her son, Adnan Pelinkovic, for allegedly firing the shot that killed her. He's been hit with more than half a dozen charges, including murder, attempted murder and assault.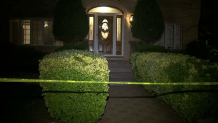 A 54-year-old man, Adnan's father, also suffered injuries in the domestic dispute. Police say he sustained a laceration on his chest but refused medical treatment at the home.
Police sources say the shooting following an argument at the dinner table that quickly escalated. That's when the 18-year-old son grabbed his father's gun and shot his mother. The sources say the gun is legally owned.
Attorney information for Adnan Pelinkovic was not immediately known.
Copyright NBC New York