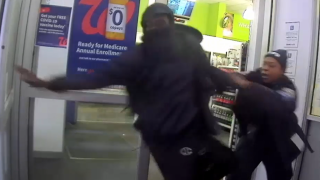 Police in New York City are hoping surveillance video will lead them to a man who they say assaulted an one of their officers earlier this week.
According to the department, the incident occurred Friday at the Duane Reade on E 34th Street in Murray Hill.
Police said the officer involved responded to a call about the man shoplifting, and when the cop tried to confront the man he attempted to leave the drugstore.
That's when video shows the two engaged in a physical altercation with the man swinging at the officer. She tumbles to the ground while the guy runs off.
The responding officer fractured a bone in her face, police said.
The suspect is described as a "known shoplifter" at the Duane Reade, but police did not know if he fled Friday with any stolen property.
Copyright NBC New York