Police are looking for several individuals they said ambushed a couple in order to break into a Bronx residence, zip-tying and duct-taping the victims before managing to escape with some of their property, including a safe.
The NYPD says they received a report that on Thursday at around 5:45 p.m., in the area of Valentine Avenue and East Burnside Avenue in Fordham Heights, a couple was approached by unknown individuals (seen in photo below) as they were taking out keys to enter their apartment.
A man in a construction vest ran at the victims, swinging a crowbar that he used to hit the 64-year-old man, eventually knocking him to the ground. Police said he also had a firearm.
Once inside the apartment, police said the individuals zip-tied and duct-taped the man and the 60-year-old woman he was with.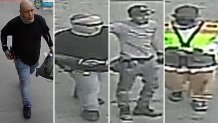 The group managed to get away with a safe, money, a purse and a backpack from the apartment, according to police.
Several of the individuals allegedly fled in a red Dodge sedan (photo below) and one fled on foot toward East 180 Street and Valentine Avenue. Investigators were looking into whether the group may be part of a larger ring, police said, and they are not sure if they knew the victims.
The group of men were dressed in construction gear and pretended to be working on the building, neighbors said, and even posted a sign in the lobby. It appeared that they waited for the couple to come back home before attacking, according to neighbors.
Police say the man suffered cuts and bruises to his head and face and was taken by EMS to St. Barnabas Hospital for treatment. The couple did not appear to be home on Tuesday, but the radiator the suspects were pretending to fix was still outside their door.
Police urge anyone with information to call the NYPD's Crime Stoppers Hotline at 1-800-577-TIPS (8477) or for Spanish, 1-888-57-PISTA (74782).
Copyright NBC New York