What to Know
A 39-year-old Queens man with no known record, according to the Manhattan DA's office, is accused of attempted murder in the random shove of a 35-year-old into a Lexington Avenue subway train
Emine Yilmaz Oszoy remains hospitalized in critical condition; she's currently paralyzed from the neck down, prosecutors say. A GoFundMe page to help with staggering medical bills has raised five figures
According to her husband, the Turkish-born woman is an "award-winning artist" who lived and worked in Istanbul before the couple moved to NYC in 2017. They live in Jackson Heights
Prosecutors revealed chilling details Wednesday as they outlined their attempted murder case against a Queens man whose alleged random shove of a woman into the side of a Manhattan subway last weekend left her paralyzed.
Kamal Semrade, a 39-year-old with no prior record known to the Manhattan district attorney's office, was remanded after his arraignment on the criminal complaint. It provides a jarring account of the injuries that the woman, identified by her family as 35-year-old Emine Yilmaz Ozsoy, endured on her way to work.
Authorities have said it appears Ozsoy was attacked at random, blindsided from behind by a man who shoved her head into the side of a train at Lexington Avenue and 63rd Street around 6 a.m. Sunday. It wasn't clear if he made any sort of comment before the shove, but the NYPD says the attack was entirely unprovoked -- and the woman was critically hurt.
According to court papers, Semrade and Ozsoy boarded the same train in Queens that morning. Both of them got off the train at 63rd and Lex in Manhattan. He was walking behind her on the platform, the complaint says, and as it began to move, he "grabbed her head with both his hands and shoved her with all his force into the moving subway car."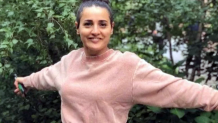 Prosecutors say Ozsoy's face and head hit the train, then her body rolled alongside it and crashed back to the platform. She was "instantly paralyzed," according to court papers, and currently can't move anything below her neck. Ozsoy's injuries include a cervical spine fracture, broken fingers, a scalp laceration and damage to four major blood vessels.
Authorities say there's still a risk the 35-year-old artist could suffer a stroke or die. She remained hospitalized in critical condition Wednesday. Prosecutors say they have eyewitness accounts and surveillance video to support their case.
One of those witnesses is Nancy Marrero.
"I just see him walk up beside her to her left side and with palms open just shove her head onto the train as it moved: she recounted. "He just took both hands, not at her body, aimed specifically at her head like he wanted the head to hit. So when he shoved her into it, so her head hit and her body like tumbling in a circle and she just dropped onto the platform."
The man took off, Marrero screamed and ran to try to do what she could for the disoriented victim.
"Why would you do that to her? I go up to her and I kneel down and I was like, 'Are you OK? Are you OK?'" Marrero asked, as Ozsoy was bleeding and not moving. "When she landed, because she tumbled, she landed on her stomach with her hand like this and this arm twisted, and she said, 'I have no feeling to my arm.'"
Marrero comforted Ozsoy, who she says kept asking if she was going to die -- as her forehead was "split from the front all the way to the back," the good Samaritan said. She was so badly bloodied that the woman's Face ID feature on her phone didn't recognize her, Marrero said. She stayed with Ozsoy until first responders arrived.
A GoFundMe page to help raise funds for her staggering medical bills, which the organizers say already top six digits, raised nearly $45,000 in two days, thanks to more than 700 separate donations. The goal is now $500,000.
According to a statement from her husband, Ferdi Ozsoy, Emine Yilmaz Ozsoy is a Turkish-born artist who lived and worked in Istanbul before moving to New York City in 2017. She's lived here since, and is an "award-winning artist, illustrator and painter who works has appeared in many magazines, and for many nationally known clients," he adds.
"Her life has been profoundly impacted by this tragic act of violence. She has suffered a severe injury to her neck that has resulted in significant limitations," her husband explained. "Unfortunately, her mobility is expected to be affected, greatly impacting her daily life. But of course, faith and hope are never-ending. She's young. She's a strong woman. She's creative. She's empathetic. She's a warrior. She's a true friend who goes out of her way to help people."
Ferdi Oszoy describes his wife as a carefree, creative spirit who loves strolling through art galleries and teaching art to communities. He says he was born and raised in New York City and moved to Turkey in 2009. He met Emine in 2011, they got married in 2014 and in 2017 opted to move to the United States.
"We took a chance. We wanted to start a new life," Ferdi Oszoy says.
The husband says his wife has no family here but him and they're working to get emergency visas, so people can help. He also expressed profound gratitude to the NYPD, the good Samaritans and others who already lent hands.
Friends and family were initially told the prognosis was poor as far as her ability to regain movement below her neck, but they say she's already proving the doubters wrong. Still, she has a long road to recovery ahead.
"The individuals that surrounded her on that train station, that comforted her and told her that everything was going to be okay until the EMTs came, they were there to keep her motivated to hang on to life and I really appreciated the New Yorkers who came to her aid in that moment," Ferdi Oszoy's statement continued. "Once she was brought to Weill Cornell Medical Center, the doctors over here performed a really difficult surgery, I would like to thank them as well for their hard work and dedication to her. They've been really supportive to us."
The MTA said it was pleased by the swift arrest.
"The NYPD acted quickly, using pictures from MTA cameras, to arrest a suspect and start delivering justice to the victim, who is in our thoughts at this terrible time," NYC Transit President Richard Davey said in a statement. "It's now up to prosecutors to pursue maximum consequences available under the law."
Semrade faces three charges of assault -- one first-degree count, two second-degree counts -- along with a single charge of second-degree attempted murder, and a high state prison sentence if convicted.
It wasn't clear if he entered a plea at Wednesday's arraignment. Semrade is being represented by The Legal Aid Society, which typically doesn't comment on active cases. He's due back in court Friday.