What to Know
A college student was brutally stabbed in a park near Columbia University in what police say was a robbery
The victim was identified as 18-year-old Tessa Majors
NYPD crime statistics show that Morningside Park had the most reports of robberies in all of New York City parks so far in 2019
UPDATE: Teen Arrested in Barnard Freshman's Stabbing Death
The park where 18-year-old Tessa Majors was stabbed to death in a brutal robbery is also where most robberies were reported this year among all New York City parks, according to the police department crime statistics.
There's a growing memorial for Majors at Morningside Park and the crime scene is still blocked off as police continue to search for the Barnard College freshman's killer on Friday. A law enforcement source tells NBC New York that investigators are looking into whether the fatal stabbing is connected to another robbery nearby that took place on Dec. 5.
In that incident, a 19-year-old man was robbed at 114th Street and Riverside Drive by two men who fled into the park afterward.
Despite being ranked among the safer parks in 2019, the park on W 116th Street had 11 reports of robbery through September compared to 10 at Brooklyn's Prospect Park and 9 at Claremont Park in the Bronx, according to the NYPD.
For other major crimes in 2019, Morningside Park is way down the list at 16. Randall's Island tops the rest with 51 reports of major crimes. Coney Island closely follows with 49 and No. 3 is Flushing Meadows at 42 reports of major crimes. The statistics doesn't include Central Park.
Police are offering a $2,500 reward for any information that may lead to the arrest of Majors' murderer.
She was a first-year college student who moved to the Big Apple from Virginia, according to the school.
When asked why she wanted to attend Barnard, Majors told the women's liberal arts college: "As an avid feminist, I have striven towards bridging my community gender divide by being outspoken in my classes, taking an intensive course on social justice, and campaigning for a congressional candidate. I enjoy taking difficult classes and feel invigorated when forced outside of my intellectual comfort zone. I embrace the culture of positivity and growth at Barnard."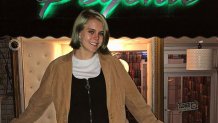 Majors' family released a statement Thursday afternoon, calling her "a light that shined brightly and our hearts will never be the same. She was very special and very loved."
The college freshman, an aspiring writer, played in a band and she recently had her first show in October, according to her Instagram posts.
"Tess was an artist, a musician who played instruments, wrote songs - one of you today called Tess 'a blazing talent,'" Barnard College President Sian Beilock said in a statement late Thursday.
A law enforcement source said a witness saw a group of people running from where her body was found.
"During the struggle, one of the individuals pulled out a knife and stabbed her several times," said the NYPD Chief of Detectives Rodney Harrison. "She staggered her way up the street. One of the security guards saw her and called 911."
She was pronounced dead after being rushed to the hospital. Police had been questioning two teenagers in connection to the slaying, but both were released Thursday evening and no arrests have yet been made.
A campuswide text that went out to students and staff late Wednesday said one male suspect may have been wearing a green jacket and a mask. It wasn't clear if that person matched the description of one of the two suspects from the other robbery.
Meanwhile, Majors' death has rocked the entire campus community. In an email to students, the school said that Majors was "just beginning her journey at Barnard and in life."
Copyright NBC New York