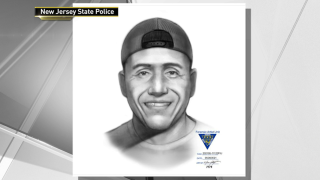 Police in a New Jersey are searching for a man accused of attempting to purchase a 2-year-old boy from a mom while at a park last week.
The New Jersey State Police issued an alert on Saturday for a man in his late 40s or early 50s accused of trying to buy the child on Wednesday.
Authorities allege the man approached a mother at Hedden County Park in Morris County around 2:20 p.m. and "made multiple attempts to purchase the child."
A composite sketch of the suspect was created by a police detective and released over the weekend.
Police said he wore a white t-shirt, black baseball hat with a "RM" logo and had a gold tooth.
Anyone with information about the man was asked to contact police at 862-325-7716.
Copyright NBC New York