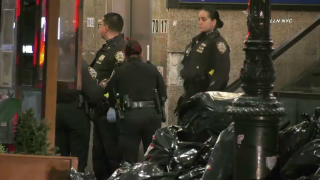 The final hours of the weekend took a violent turn at a Queens nightclub when a 25-year-old was shot in the groin, police said.
Police responded to the club on Austin Street in Forest Hills around 11:45 p.m. Sunday for a shooting.
The preliminary investigation suggests a dispute broke out inside the Lowkey Garden Lounge before someone pulled out a gun and shot the victim, police said.
Officials transported the 25-year-old to Jamaica Hospital with a gunshot wound to his groin. His injuries are believed to be non-life-threatening.
Witnesses in the neighborhood say the victim worked at the nightclub as a bouncer. Police could not immediately confirm his connection to the establishment.
No other injuries were reported, and police have not made any arrests in the case.
The investigation is ongoing.
Copyright NBC New York