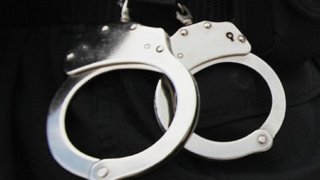 A New Jersey man faces up to 10 years in prison after pleading guilty to striking a neighbor with his Ford Explorer and dragging the victim several feet before leaving him in the road to die, the county prosecutor's office said.
Johnny Westbrook, 85, pleaded guilty Friday to a first-degree aggravated manslaughter charge for the death of Daniel Rivera, 63, in late 2018.
According to prosecutors, Westbrook and Rivera lived in the same building in Monmouth County in December of that year. On December 21, Westbrook followed Rivera to a nearby store and waited for the victim outside. When Rivera exited the store and started walking down a nearby sidewalk, Westbrook drove his 1998 Ford Explorer and struck the victim, dragging him several feet down the path.
Westbrook drove away but police were able to link his vehicle to the crime after finding the victim's blood and hair on the bottom of the Explorer, prosecutors said.
Authorities determined Westbrook's motive was rooted in jealousy over the victim's friendship with a woman.
"A joint investigation by the Monmouth County Prosecutor's Office and the Asbury Park Police Department revealed that Westbrook and the victim had been involved in a physical altercation a little more than one month before the homicide due to Westbrook's jealousy over the victim's friendship with a woman," the county said.
Westbrook's attorneys strongly reject any suggestion that his actions were in response to a "love triangle gone wrong."
"Mr. Westbrook is a very sick 85-year-old man who regrets his actions that December day. We look forward to presenting Judge Torregrossa O'Connor with mitigating factors which will support our position that a 5-year sentence is fair and just under the circumstances," a statement by his attorneys read.
Copyright NBC New York