An apparent large-scale fraud is taking place at Santander Bank ATM locations in multiple New Jersey towns and across the tri-state, according to authorities.
Morris County and Bloomfield officials confirm there have been multiple arrests in connection to the alleged scam. Woodbridge Township confirms branch ATMs were targeted there as well.
Although no arrests have been made, three ATMs have been targeted in Hoboken, according to city officials. There are also reports of additional ATMs being targeted in Newark, several Middlesex County towns and even in Brooklyn.
Chopper 4 witnessed various police cars guarding a Santander ATM in Robbinsville, located in Mercer County. Meanwhile, on Hylan Boulevard In Staten Island, the NYPD had an entire bank blocked off.
The South Windsor Police Department in Connecticut sent out a series of tweets warning residents of the suspected scam.
"We have been made aware of an ATM scam in which suspects are using Santander Bank ATM's to fraudulently withdraw cash using fake debit cards. Since we have a branch in town (1765 Ellington Rd), we are asking any citizen using their ATM to use caution when withdrawing money," one of the tweets reads.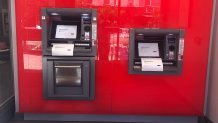 The department went on to say in a subsequent tweet that Santander is investigating and urges residents who believe to have been a victim of the scam to contact the police department immediately.
In a statement, Santander said that after learning of the suspicious activity involving some ATMs at branch locations, they have temporarily shut down those machines. They also said some bank branches may feature added security or could be temporarily closed.
"We are continuing to cooperate with law enforcement as they investigate this situation and apologize for any customer inconvenience," the statement read. "As we work to expeditiously resolve this situation, our customers should know that there is no impact to their accounts or funds, which can be accessed online, using our digital app, in our branches or at non-branch ATMs."
A spokesperson for the New Jersey FBI office said the agency is aware of the Santander ATM situation and is in contact with its state and local law enforcement partners. The NYPD said it was investigating several instances in Queens, Brooklyn and Staten Island where the fraud scheme may have taken place. The department believes only Santader ATMs were impacted by the fraudsters.
Brooklyn residents say they had noticed some suspicious behavior at a Santander location on 16th Street over the past day, with cell phone video showing unusual long lines forming outside the bank, and cars parking outside while multiple people going back and forth from the ATM.
Law enforcement sources said that Santander may have lost tens of thousands of dollars across the tri-state area as a result of the scam.
Santander Bank started out in Spain before serving customers in the Northeast since 2013. According to its website, the bank has over 575 branches and more than 2,000 Santander ATMs across the Northeast.
Copyright NBC New York