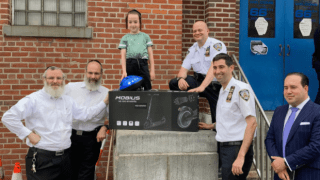 Newly released video shows a man police say snatched a scooter right out from under a 7-year-old boy in New York City.
Police say the adult blocked the boy's path on 36th Street and 12th Avenue before pulling the scooter out from under him last week.
The boy was not seriously injured, police say.
While police continue to investigate and search for the man, the department helped the boy out.
The boy was presented with a brand new scooter and helmet nearly one week after the brazen theft.
Copyright NBC New York