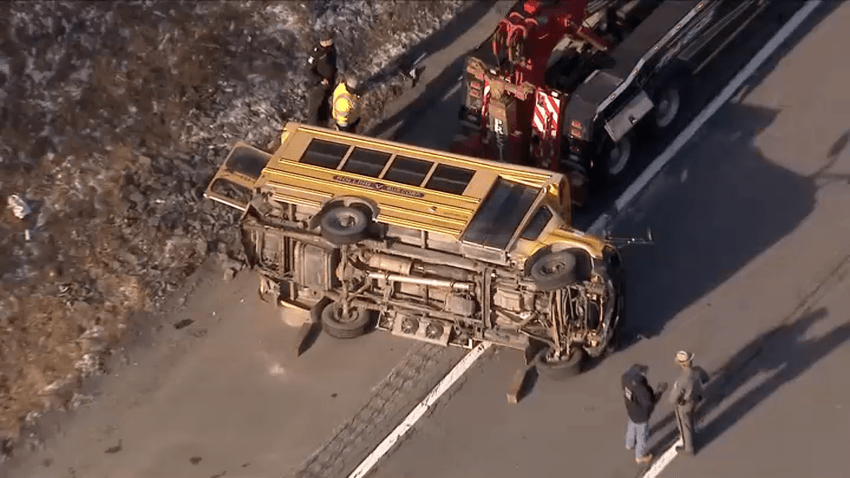 What to Know
Five students and two adults were hurt in a school bus collision with a pickup truck in Mamakating, New York, Thursday
It happened between exits 112 and 113 eastbound on Route 17; the area was shut down as authorities investigated
The injuries to the kids, as well as their two bus monitors, were all said to be minor
Five students and two adult bus monitors were hurt when a pickup truck rear-ended a mini school bus, slamming the kids' vehicle into a guardrail and causing it to flip over on a New York highway Thursday, officials say.
The injuries to the kids in the accident -- in the eastbound lanes of Route 17, between exits 112 and 113 near Sullivan County's Wurtsboro, about 80 miles northwest of Manhattan -- were all said to be minor.
The hurt children ranged in age from 6 to 17; they were all taken to a hospital and later released. The adults also suffered minor injuries.
A preliminary investigation indicated that the operator of the pickup truck, a 57-year-old man from Liberty, rear-ended the school bus pushing into the guiderail causing it to flip on its side, according to state police.
The bus had been traveling from Fallsburg to BOCES in Orange County at the time of the accident. The truck driver wasn't hurt, but he was cited for following too closely.
Route 17 was shut down in the immediate area for much of the morning.
Copyright NBC New York