Authorities are looking for a man suspected to have been driving the vehicle that sparked an emergency response and street closures near the Queens Place Mall early Monday, multiple police sources tell News 4.
Several hundred people were evacuated from the shopping center and from nearby apartments along Queens Boulevard and 56th Avenue around 9 a.m. The NYPD's bomb squad was sent in to investigate the device that resembled a bomb. The car's windows were obscured, making it difficult for passersby to readily discern what was inside, police said.
The item that prompted the concern -- what appeared to be a small can attached to the back of a Tesla with stolen license plates on Queens Boulevard around 7:30 a.m., high-ranking law enforcement sources said -- turned out to be a hoax device, the NYPD tweeted in a late-morning update. News 4 obtained a photo of it.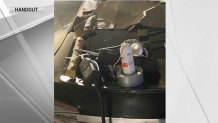 No explosives were found. There was, however, a dog (a husky), trapped inside the car. The animal was rescued and officers were seen giving it some water from a cup at the scene. The circumstances surrounding the vehicle and the dog, as well as the can attached to the car, remain under investigation.
Sources say the man suspected of driving that vehicle, which records show had Nevada license plates and was stolen, is 22-year-old Louis Shenker, who was previously known to New York City officials. Sources tell News 4 Shenker was arrested twice last week, once for allegedly burning a Black Lives Matter-related poster and the other for making a separate threat.
The car had pro-Black Lives Matter movement signage, raising questions of whether the signs were placed there in an attempt to discredit the movement, according to three senior law enforcement officials.
NYPD officials said at an afternoon news conference it wasn't clear whether the vehicle, a Tesla, was stolen in Nevada and driven to New York or if it was already in New York when it was taken. It was found parked on a spiral ramp between parking levels, officials noted. There are early indications based on items found inside the vehicle that the suspect may have been living inside, investigators said.
No arrests have yet been made, but police said that even though it was not a real explosive or harmful device, leaving anything that resembles a bomb is a crime, and charges are expected.
Copyright NBC New York