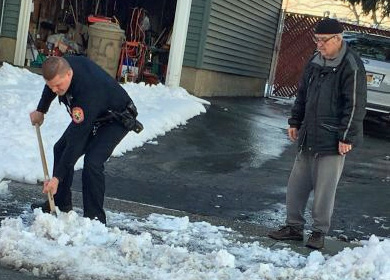 Spotting an elderly man shoveling his driveway, Nassau County police officer Kyle Klein decided to serve and protect: He took control of the shovel to protect the homeowner from a possible heart attack.
The officer had just gone back on patrol Friday when he noticed 82-year-old Gerard Cote clearing a snow pile at the edge of his driveway in Farmingdale.
Hours earlier, Klein had helped resuscitate a Bethpage man who had suffered a heart attack while shoveling snow and had taken him to the hospital. Not wanting to see another man fall victim to the snowstorm, Klein volunteered to shovel Cote's driveway, an offer Cote couldn't refuse.
"He's always welcome back to shovel snow," Cote said later.