What to Know
New York City is expected to begin its reopening on June 8, Gov. Andrew Cuomo said Friday; he also cleared the five regions that initially reopened on May 15 to enter the next stage of the process, Phase II -- effective immediately.
New Jersey Gov. Phil Murphy said Friday that day care centers can reopen on June 15; you and day camps can resume the following month
The positive developments come amid the pandemic's staggering emotional and economic cost. The tri-state area has confirmed nearly 40,000 virus deaths, while the U.S. toll topped 100,000 this week
Gov. Andrew Cuomo said Friday New York City is on track to start its reopening process on June 8, a week from Monday, as he gave five regions that opened when the statewide shutdown ended May 15 the green light to enter Phase II -- effective immediately.
The city still has two of Cuomo's seven criteria left to meet before it can join the rest of the state in reopening. One of the outstanding criteria is hospital capacity -- it needs to keep 30 percent of beds available. The other is tied to contact tracing. Cuomo says New York City should meet those criteria by the end of next week, paving the way for a likely June 8 reopening.
Mayor Bill de Blasio offered a first detailed picture Thursday of what New York City's Phase I entry might look like -- one that could see as many as 400,000 people return to work. The MTA has already increased subway and rail service and said it planned to reveal more phased restorations in the coming days to accommodate the anticipated volume of commuters.
In an open letter to businesses Friday, MTA Chairman and CEO Patrick Foye, asked them to consider staggering work hours and extending work from home options. Foye said letting employees start later in the day, mitigating crowds during the morning rush, "would make a world of difference in helping spread out the peak."
De Blasio, who had his daily briefing ahead of Cuomo's Friday, joined the governor's briefing by video after Cuomo made the June 8 announcement.
"We are excited to get to the point of a restart for New York City," de Blasio said. "When I talked to the people of New York City this morning, I told them the indicators were moving in the right direction but that the key to getting to Phase I came from the collaboration between you and me, the state and the city, to all get on the same page. We're absolutely on the same page."
Meanwhile, the five New York regions that reopened when the statewide shutdown order ended on May 15 -- Finger Lakes, Mohawk Valley, Southern Tier, North Country and Central New York -- are clear to enter Phase II, reopening office-based jobs, hair salons, barbershops and in-person retail operations, Cuomo said. Real estate, vehicle sales and leases and commercial building management can also reopen in Phase II. Strict guidelines on capacity and social distancing apply. Dine-in restaurants, movie theaters, malls and fitness centers remain closed.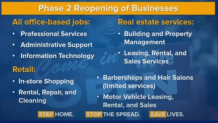 Earlier Friday, there had been some confusion and "frustration" among Phase II-eligible counties, as one local government said, largely due to an overnight executive order from the governor that did not specifically initiate the next step. Cuomo said Friday he had asked a team of experts with varying experience -- local, regional, state and global -- to review his seven benchmarks. Comfortable with their assessment, he later said the regions could move on.
Region by Region Status
Source: New York State; Report as of May 18
New Jersey, meanwhile, is on the verge of moving into Stage 2 of what Gov. Phil Murphy has described as a three-stage opening process. Murphy announced Friday that child care centers can reopen June 15, while non-contact organized outdoor sports can resume a week later. Youth and day camps can resume July 6, the same day Murphy has said schools can begin to hold outdoor graduation ceremonies for the class of 2020, provided they comply with social distancing.
Horse racing can resume, with the first competitive races likely to start as early as next weekend, albeit with no fans in the stands.
Murphy acknowledged New Jersey still has work to do -- his state leads the nation in hospitalizations per 100,000 residents. But it has fallen to No. 4 and No. 8, respectively, on new deaths and cases per 100,000 residents after being No. 1 on both metrics two weeks ago.
"The data continues to move in the right direction and continues to be far down from the peak," Murphy said Friday. "We remain confident in our overall direction."
He said he expects to be able to raise the cap on indoor gatherings to allow for larger religious services by the weekend of June 12, adding, "We will continue working with our faith institutions to ensure our houses of worship are strong and safe."
Last week, ahead of Memorial Day weekend, Murphy raised the limit on outdoor gatherings to 25; the cap for indoor gatherings is 10.
Connecticut Gov. Ned Lamont said he would sign a similar executive order Friday on gathering size, as he announced casinos would open in the state this weekend with social distancing and other mitigation measures in place.
There was also news on the higher education front in Connecticut Friday, as the president of the state's college network said he plans to reopen campuses for in-person instruction in the fall.
Copyright NBC New York