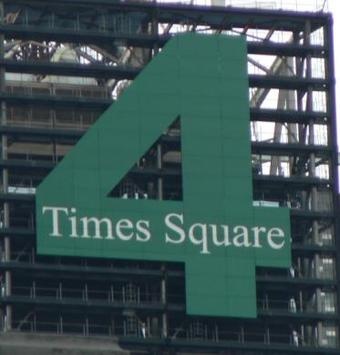 The Financial District could be getting a touch of Vogue.

Magazine publishing giant Condé Nast has been in talks with Port Authority of New York and New Jersey, and is considering moving its headquarters to One World Trade Center, the New York Times reports.

Condé Nast, which publishes Vogue, The New Yorker and more than 20 other fashion and consumer magazines, could occupy up to one million square feet in the skyscraper which will rise 1,776 feet tall from Ground Zero when completed.

"It's the perfect place for them," Elizabeth Berger, president of the Alliance for Downtown New York, told the Times. "The lunch crowd will be very well dressed. And where else can you go to Tiffany and Century 21 on your lunch hour?

The publishing company moved into 800,000 square feet in its current location at 4 Times Square in 1999, and has since helped revitalize Times Square into a trendy area.

"Lower Manhattan is increasingly a place where progressive, interesting companies want to be," Berger told the Times. "They'd do for us what Condé Nast did for Times Square when they built their current building."

But talks are still in the works and nothing has been officially confirmed.

Condé Nast spokeswoman Maurie Perl did not comment on any plans when contacted by the Times.

"At this time we've got nothing to say," Perl told the Times.

The tenants of the building only include government offices and a Chinese real estate company so far, but Morgan Stanley and two other financial firms are also considering the office tower, according to the Times.

Also, the Port Authority has received several bids from real estate developers vying to buy a minority stake in One World Trade Center.