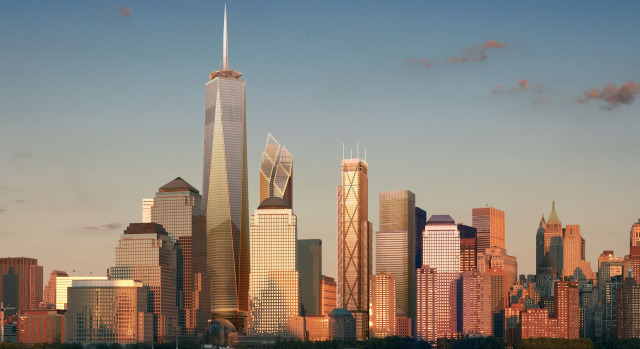 Publishing giant Condé Nast is one step closer to securing the address "1 World Trade Center," after entering into a tentative deal with the Port Authority of New York and New Jersey, according to sources involved in the negotiations.
The deal is good news for the World Trade Center: Although set to be completed in 2013, up until now the World Trade Center has struggled to secure tenants. Prior to Condé Nast's negotiations, the only confirmed tenants were a few government agencies and a Chinese real estate firm, the Times reported in May.
With a big name like Condé Nast on board, officials hope that more companies will express interest in the building.
Condé Nast, which publishes Vogue, The New Yorker and Vanity Fair, did not immediately comment Tuesday. The Port Authority of New York and New Jersey says in a statement that there's "momentum" in tenant interest.
"Just as it did for Times Square, a Condé Nast move would provide instant credibility to the World Trade Center site and, indeed, to the entire downtown market," real estate expert Carl Weisbrod told the Times. "Moreover, it would provide sorely needed diversity to Lower Manhattan's economy and would be the vanguard of a broader shift of creative companies from Midtown to the south."
Condé Nast informed its employees this morning that it was engaged in "active negotiations" concerning the move, the Times reported today.
The publishing company is currently located at 4 Times Square and has 800,000 square feet of office space. The planned move to the World Trade Center would take place in 2014 and boost them to 1 million square feet.
The World Trade Center building, formerly called the Freedom Tower, will reportedly have 2.6 million square feet of space. Upon completion, it will stand 1,776 feet tall, making it the tallest building in New York City.
Copyright AP - Associated Press