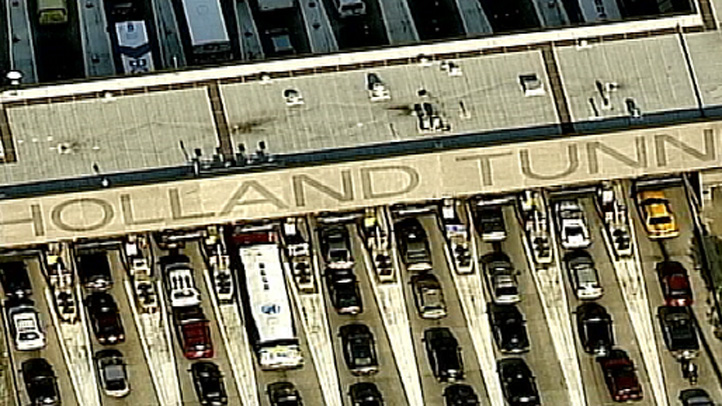 The steep hike for PATH train fares and Port Authority bridge and tunnel tolls is drawing anger from commuters who say they cannot afford the extra costs.

"I'm thinking the only way I could pay for those (higher) tolls is to get another mortgage or take out a bank loan," said Raul Ramirez, who lives in Hackensack and works at a hospital in Brooklyn.

Under the plan announced Friday, drivers who come into New York City from New Jersey at rush hour will be paying $12 a day — even if they have an E-ZPass. The off-peak toll will be $10. Without the pass, rush hour travel will cost $15. Trucks with E-ZPass will pay $6 more per axle.

The Port Authority also announced a $1 hike in the fare on the PATH train that connects New Jersey to Manhattan. It said the average PATH fare will be $2 with multi-trip discounts.

And it gets worse for passenger cars and trucks — the tolls would rise by an additional $2 in 2014.
The Jersey Journal reports that a protest of the plan is planned Monday evening at the Journal Square PATH station.

The increase would apply to all of the agency's bridge and tunnel crossings, which also include the Bayonne and Goethals bridges and the Outerbridge Crossing between New Jersey and Staten Island.
"That's just crazy ... what's their justification for doing this?" Stacey Mahpour of Englewood asked Sunday while stopped at a gas station near the George Washington Bridge.

While Mahpour visits the city infrequently, her husband, an environmental engineer, travels there often. And she says mass transit isn't really an option for him because he has to travel to different sites throughout the area for his job.

"Fortunately for him, he's reimbursed for his commute expenses, but I feel bad for the people that have to do that each day and pay for it out of their own pocket. I don't understand the rationale for such a big toll boost, and I think it's unnecessary," she said.

The Port Authority said that without a fare increase, it will be risking "240 critical infrastructure projects and thousands of jobs." It said the recession and security costs had left revenue $2.6 billion below projected amounts. The agency also said rebuilding the World Trade Center is costing more than $11 billion, and its security costs are nearly three times the pre-9/11 level.

The overall fare and toll increase proposal is subject to approval by the Port Authority's board of commissioners, which is meeting Aug. 19. If the board approves the plan, it is subject to veto within 10 days by either Gov. Andrew Cuomo of New York or Gov. Chris Christie of New Jersey, said authority spokesman Steve Coleman.

The governors have issued a joint statement saying they would review the proposal but have "obvious and significant concerns."

Also concerned is Danielle Albert, a 36-year-old Teaneck resident who takes the Hudson River crossings into New York about two to three times a week, mostly to visit relatives and the city's various attractions.

Albert always drives in and says the overall trip between New Jersey and New York costs her about $20 in tolls each time, and any toll boost will likely force her to cut back on her travels.

"That makes me unhappy, because part of the reason why I live near (New York) is I can use what the city has to offer. My kids love it, they love to go there and see the museums, but if it gets too expensive, I probably won't go there as often," she said.
Copyright AP - Associated Press