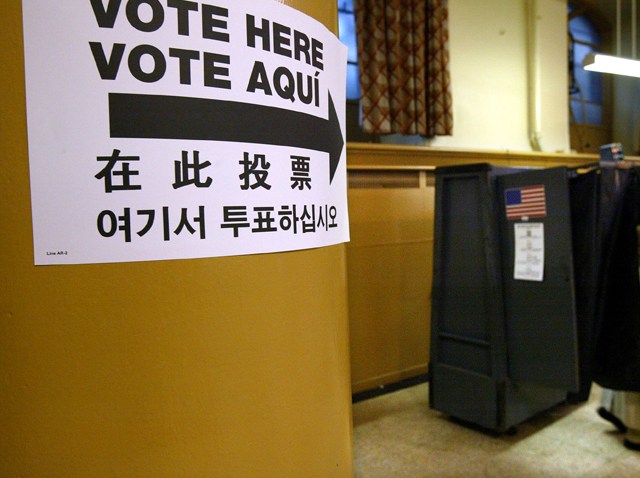 Should New York abolish party primaries for mayoral elections?
That was one of the major questions discussed at length during public forum on voter participation by the NYC Charter Revision Commission, Wednesday night.
Four potential democratic candidates for mayor in 2013 have strongly criticized the movement to abolish party primaries, also called partisan primaries.
"Party primaries produce the most capable candidate among a field of like-minded candidates," NYC Comptroller John Liu, a potential 2013 mayoral candidate told NBCNewYork.
Manhattan Borough President and potential 2013 mayoral candidate Scott Stringer also weighed in: "We should not play with our democracy for blatant political reasons," he told NBCNewYork.
Wall Street Journal blogger Aaron Rutkoff points out that "For these top Democratic office holders, the incentive to keep partisan primaries is clear: the current system has put these politicians near the top of the heap."
However, Rutkoff also pointed out that voters in cities without party primaries are often " less informed, less likely to vote and would create a less competitive atmosphere in down-ballot races."
He cites George Mason University law professor David Schleicher, who said of New York City: "The current system of local elections is a disaster... but nonpartisan elections [would] take a bad situation and make it worse. In general, nonpartisan elections are a terrible idea."
Those who support the movement to abolish party primaries argue it will increase voter turnout. Only registered party members are allowed to vote in their party's primary.
"In most New York City races the winner of the Democratic primary wins the general election... we're talking 1.4 million voters who can't participate in that critical first round of voting," NYC Independence Party attorney Harry Kresky told the Wall Street Journal. "So, it's really a fundamental issue of democracy -- a political system that excludes that many voters is not a good thing."
But Stringer argued that there are other ways to increase voter turnout, such as "same-day voter registration" and "campaign finance reform."
And "the Charter Commission has so many other issues to consider," Stringer added.
"Today half the people don't have a vote, and, so, unless you work your ways through one of the parties, in this case, in this city, it's the Democratic Party, you almost have no chance of ever getting elected," said Mayor Bloomberg on his weekly radio show a few weeks ago.
Bloomberg switched from the Democratic to the Republican party in 2001 to run for NYC mayor, saying it would have been impossible to successfully campaign against established Democratic party members.
"There's nothing wrong with Democratic candidates usually winning," Liu told NBCNewYork. "The biggest impediment is that most people in this city do not agree with Republican candidates."
The Charter Revision Commission last placed the issue before voters in the 2003 elections -- then Bloomberg gave $7.48 million of his private fortune in support of the push for nonpartisan elections.
The proposition failed, however; in 2003, 70 percent of voters were against abolishing nonpartisan primaries.
In the 2003 proposal, all registered voters, regardless of party affiliation, would vote in September primaries, and the top two vote-getters would become the candidates in the November elections.
The Charter Revision Commission's forum last night was the second of five public "Issue Forums." The other forums are listed on the Commission's website.