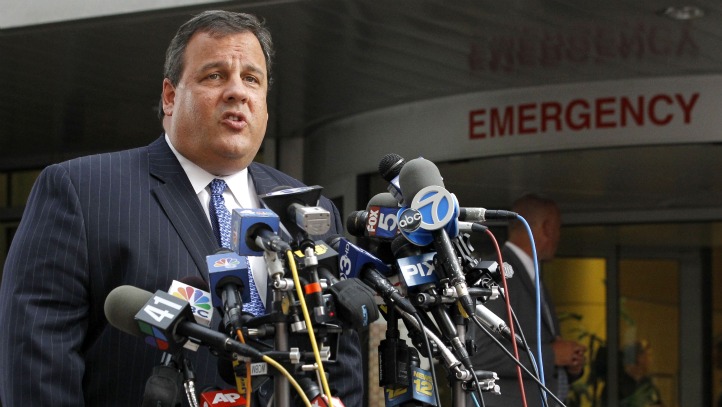 New Jersey Gov. Chris Christie said he feels fine and will "be back to work" Friday after being hospitalized following what he said was an asthma attack.
Christie walked out of the Somerset Medical Center around 6:30 p.m. Thursday. He told assembled reporters that he hadn't needed to be hospitalized for an asthma episode "since law school."

The 49-year-old governor said he began having trouble breathing when he woke up Thursday. "The rescue inhaler didn't have the effect it normally has," he said.

Christie said that he began to feel "lightheaded" at around 10:30 a.m. while on his way to a bill-signing ceremony, so New Jersey State Troopers took him to the hospital. "They did a great job and got me here very quickly," he said.

Christie's deputy chief of staff, Maria Comella, said Christie had an electrocardiogram, a chest X-ray and blood work, which were all normal. He was not treated for any condition. His blood pressure was measured at 118 over 78, considered in the healthy range.
"I feel great now," Christie said. "I'm just a little tired."
When asked about his weight, an issue he's struggled with and spoken about publicly, Christie said he was still working with a trainer and was trying to drop some pounds in a "real slow, responsible way."
Deflecting questions about stress and his overall health, the governor said that he thinks the hot, humid weather might have triggered his asthma attack.
A member of Christie's inner circle, state Sen. Joe Kyrillos, told NBC New York that he got updates from the governor's counsel, Jeff Chiesa: "He's talking, he's in good health and he's bored," he said of his hospital visit.
When they spoke, the state senator said, "he sounded great -- he was clear, comfortable. He sounded strong."

Christie is often mentioned as a potential Republican contender for a presidential run, although he insists he won't run in 2012.

Conservative commentator Ann Coulter, who supports a Christie, made light of the situation Thursday.
"I took Christie's inhaler away until he promised to run in 2012," she tweeted.
Christie personally joined in from his hospital room, taking to Twitter to thank Democratic state Sen. Barbara Buono, a frequent critic, for her get-well wishes: "Thx 4 your kind thoughts...and BTW, Happy Birthday!"

Christie said he's never made any secret that he is an asthmatic.
His weight came up during his 2009 campaign against Democrat incumbent Jon Corzine, who ran an ad accusing Christie of "throwing his weight around" to get out of traffic citations while he was U.S. attorney.
The ads included unflattering images of Christie struggling to exit an SUV. In contrast, Corzine was running 5K and 10K races nearly every weekend toward the end of the campaign.

Follow NBC New York on Twitter @NBCNewYork and at Facebook/NBCNewYork.
Copyright AP - Associated Press