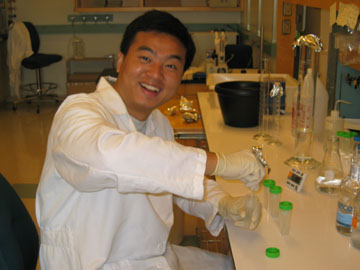 A Rutgers University graduate student from China charged with breaching security at Newark Liberty International Airport is getting legal help from the Chinese Consulate in New York.

Consular official Wang Bangfu said the consulate has been following the case of 28-year-old Haisong Jiang, of Piscataway, N.J., closely since he was arrested and charged with trespassing Jan. 3.

Jiang entered a restricted area at the airport, where he was seeing his girlfriend off, triggering the shutdown of a busy terminal that led to snarled flights worldwide.

Wang said Tuesday evening that the consulate is providing Jiang assistance, but Jiang has asked that no details be made public.

Wang said the request for assistance came from Jiang.

Jiang's arraignment is set for Jan. 28 in Newark. His friends have maintained the quiet scholar could not have meant any harm and was only trying to say goodbye to his girlfriend.

"This man is very romantic. He's a very good man," said Andy Rui, 28, one of Jiang's best friends. "This man is very romantic. He's a very good man."

But the security breach, which was captured on surveillance video, was certainly serious. Authorities enlisted the public's help in tracking down Jiang, and New Jersey senators have called for heightened security measures in the aftermath of the breach.
Copyright AP - Associated Press