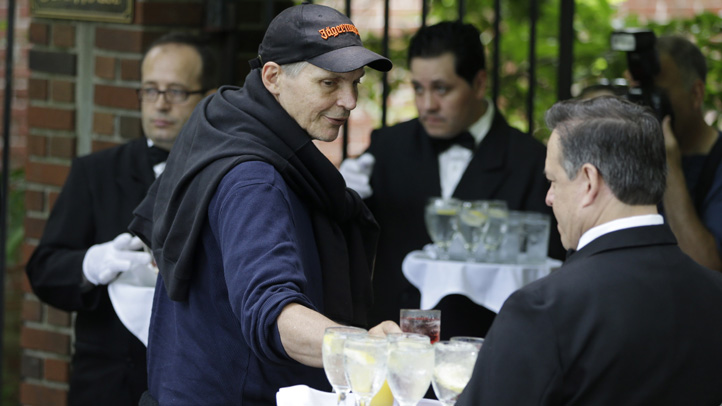 A Chinese multi-millionaire tycoon bought lunch for about 200 homeless New Yorkers at a ritzy Central Park restaurant Wednesday, where he sang "We Are the World" on a stage with baskets of cash.
Recycling magnate Chen Guangbiao, whose worth is estimated at $400 million by Forbes, served his guests a menu of sesame-seed-encrusted tuna, beef filet and berries with creme fraiche at the Boathouse restaurant.
Chen had initially promised $300 cash for each guest from the New York City Rescue Mission, but the shelter convinced him to donate to their organization instead. There was some confusion at the event when he appeared to start handing out $100 bills, but stopped after three people.
The shelter's executive director, Craig Mayes, said it provided homeless guests for Chen because it was a once-in-a-lifetime chance for some of them.
"Our thought was if someone wants to treat them to an amazing event — something they would never experience on their own, maybe even a kernel of hope that life could be different again, we're in for that reason. That's our motive," said Mayes.
The news of his visit, which he announced with ads in The New York Times and Wall Street Journal, attracted a crowd of homeless people outside the restaurant, who lined up starting around midnight Tuesday. Many said they believed anyone who showed up would get $300, and were angry when they were told all the lunch spots were filled.
"I sleep under the ground under the FDR -- I have not had a good meal in months," Brandy Mills told NBC 4 New York. "This $300 would help me."
The miscommunication is "like somebody spitting in our face and telling us it's raining," said Harold Butler. "You tell us one thing and then all of a sudden there's different rules and everything."
Inside the restaurant, some homeless guests praised his efforts.
"I'm looking forward to a good time and a good meal," said Antone Hills, a Mission resident. "I think he's a good guy and he's helping our country."
Chen says he wants to disprove the cliche image of rich Chinese spending money mostly on luxuries.
But his American ambitions surpass philanthropy.
Earlier this year, the 46-year-old businessman wanted to buy The New York Times. Times chairman Arthur Sulzberger Jr., said the newspaper was not for sale.
Copyright AP - Associated Press