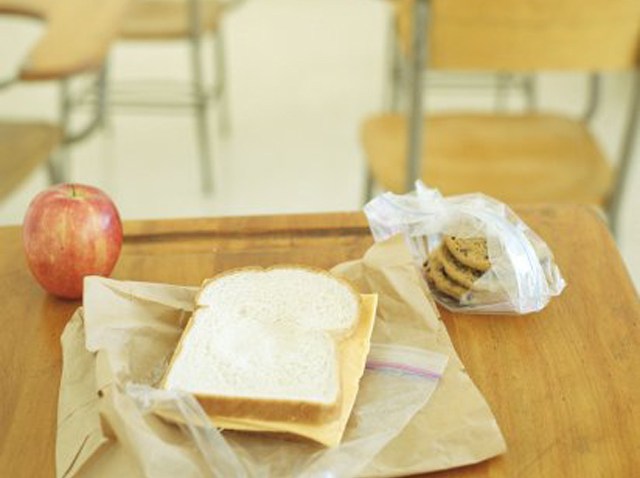 Students at Atlantic City High School in New Jersey have learned not to mess with those in control of their grub.

After a cell phone-coordinated food fight broke out during a lunch period, cafeteria workers served up the punishment in the form of cold cheese sandwiches.

For lunch on Wednesday and Thursday, students were only offered a slice of cheese between two slices of wheat bread.

Parents weren't too thrilled.

"It's a prison meal," Bridgitte Reid, a parent of one high school student, told the Press of Atlantic City. "They can't do this."

School Superintendent Fredrick Nickles said that the plain sandwiches are use as punishment for food fights.

"It's been the policy of the school board for many years that if there is a food-throwing incident, what occurs is we will supply the basic food requirement," Nickles told the Press. "It's been effective over the years."

Only the lunch period responsible for the food fight was limited to the cheese sandwich lunch. The school divides the students into six lunch groups with three separate lunch periods.

Still, parents argued that not all students in that particular lunch group engaged in the food fight.

"Why should my student be forced to eat this?" Reid said to the Press, maintaining that her daughter did not participate in the food fight. "There's nothing on this. No mayo, no nothing. It's disgusting."

Angered by the punishment, Reid went to the school and bought one of the cheese sandwiches to use as evidence of the "crime" when she argued directly with school officials, the Press reported.

Nickles said students are not obligated to eat the food provided by the school's lunch service, and are welcome to bring a homemade lunch.

"It's unfortunate," Nickles told the Press about the students who sat out of the food fight, "but we are more concerned about the general population."

The school returned to offering students the usual lunch menu on Friday.