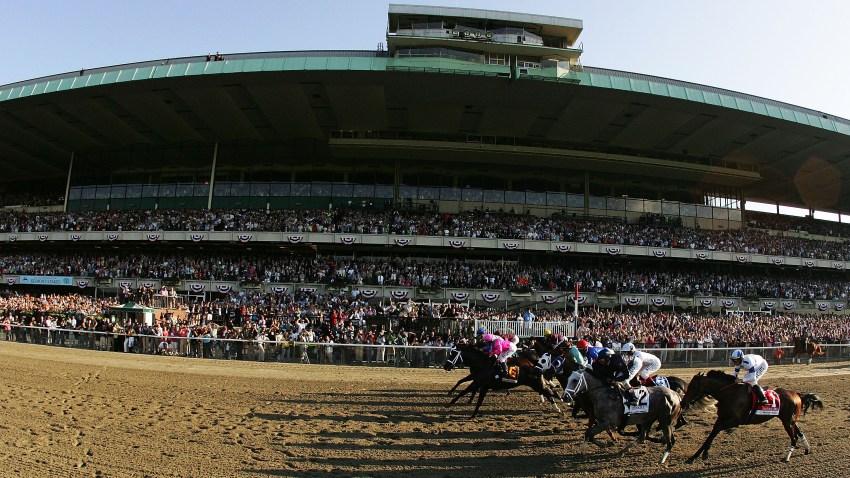 The third leg of the Triple Crown is taking place in New York on this weekend and we couldn't think of a better reason to get out of the house.
More than 30,000 fans will gather in Belmont Park this Saturday for the 142nd running of the Belmont Stakes, and at 6:30 p.m. jockeys will shuffle into the gate with their horses and await the starting cue.
To catch the action in person, tickets are still available at Ticketmaster.com for $20 and up.
But, if you're not up for the crowds, heat and humidity -- not to mention the trek to Queens -- you can part take part in the suspense and excitement from the comfort of one of Manhattan's watering holes.
The two-hour broadcast starts at 5 p.m. and here are few couple of spots that will be playing the event on TV and offering food and drink specials, including deals on the horse race's famous cocktail the Belmont Breeze:
Iggy's Keltic Lounge:
132 Ludlow St. (At Rivington Street)
$8 Pitchers of Bud and Bud Light
Free Hotdogs or Chicken Wings from noon to 8 p.m.
Southern Hospitality:
1460 Second Ave. (Between 76th and 77th Streets)
$3 Blue Point Drafts
$3 Coors Light Drafts
$6 Triple Crown Frozen drinks
Specials on Memphis-style barbecue
The race will be played on 14 HD TV screens throughout the restaurant and a giant screen.
The Stag's Head:
252 E. 51st St. (Between 2nd and 3rd Avenues)
$5 Belmont Breezes
Half-priced wings
The bar will also have a raffle where customers pick a number and if the horse with that number wins, the customer gets a $15, $20 or $25 gift certificate to the restaurant. Thirteen flat screens will play the race.
If you're not up for getting out of the house, make your own Belmont Breeze at home and check out New York City's Off-track Betting Web site.
Here's how to whip up your own Belmont Breeze:
1 1/2 ounces of a good American blended whiskey
3/4 ounces Harveys Bristol Cream Sherry
1/2 ounce of fresh lemon juice
1 ounce of simple syrup
(1 ounce of sweet and sour mix may be substituted for the lemon juice and simple syrup)
1 1/2 ounces fresh orange juice
1 1/2 ounces cranberry juice
1 ounce 7-Up
1 ounce Club Soda
Shake the first six ingredients with ice, and then add in 7-Up and club soda. Use a sprig of mint and lemon wedge for garnishes.