What to Know
Paul Manafort's one-time banker, David Fallarino, had his Manhattan home burglarized; a briefcase, iPad and sneakers were stolen
Police on Wednesday released images of the suspect, who has a shaved head and forearm tattoo; he also broke into another apartment nearby
Fallarino, who works for Citizens Bank, told cops he left the terrace door open before he went to bed and awoke after 1 a.m. to a noise
Police have released surveillance video of the bald, tattooed burglar who broke into the Manhattan penthouse of Paul Manafort's one-time banker and made off with over $2,000 worth of valuables on Tuesday morning.
The man broke into David Fallarino's West 58th Street home at around 1:30 a.m. Tuesday, apparently through an unlocked terrace door, and stole a briefcase, and iPad and a pair of sneakers, according to police.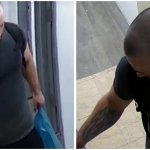 Fallarino, 38, dubbed Manafort's "front office banker" at Citizens Bank by the Huffington Post, told authorities he'd left the terrace door open before he went to sleep Monday, the sources say. The building is nine floors, city records show.
He heard a noise at around 1:30 a.m. and went out to find a crow bar on the terrace, law enforcement sources told News 4 New York Tuesday. There were no apparent signs of forced entry, the sources say, but Fallarino reported his wine cabinet was open and there was a bottle of wine on the floor. The briefcase, iPad and sneakers were the only items missing; the contents of the first two were unknown.
The suspect pictured is also believed to be behind a similar break-in at a fourth-floor apartment on West 56th Street and Eighth Avenue Monday night at around 10 p.m. In that case, the suspect took the 39-year-old victim's skateboard, cellphone and laptop. Building residents confronted the man, but he ran off with the property, valued at nearly $3,000.
The suspect has a shaved head and a tattoo on his right forearm; he was last seen wearing a dark colored T-shirt, black shorts and black and white sneakers, police say. Anyone with information is asked to contact NYPD's Crime Stoppers.
Repeated attempts to reach Fallarino for comment on the break-in were unsuccessful; an assistant at Citizens Bank said he was on vacation and declined to comment. Citizens Bank also declined corporate comment, referring questions to the NYPD.
Fallarino was one of three so-called key figures not called by Robert Mueller's office to testify at the trial of ex-Trump campaign chief Manafort, who was convicted on eight felony fraud-related counts earlier this month. A mistrial was declared on 10 other counts. Two of Fallarino's assistants testified at the trial, the first public test of Mueller's investigation into alleged Russian meddling in the election, regarding emails the banker had sent and received.
Citizens Bank's website lists Fallarino as a loan officer. His LinkedIn page describes him as a producing lending manager who got started in the mortgage banking business in 2003 as a loan officer and quickly moved up the ranks.