What to Know
The DOT unveiled two methods to make repairs to the Brooklyn-Queens-Expressway, but neither are ideal
One method would close the Brooklyn Heights Promenade and turn it into a temporary highway while crews work on the existing BQE
The other would take longer, but the promenade would stay unaffected; less improvements would be made and more overnight work would be done
Commuters in Brooklyn could soon be bracing for a traffic nightmare that may stretch all the way into Staten Island and Queens while also taking away one of the Big Apple's most scenic attractions.
Top Tri-State News Photos
Part of the Brooklyn-Queens-Expressway may soon be under construction for years and could shutter Brooklyn Heights Promenade in the meantime to turn it into a temporary six-lane highway.
Part of the BQE, which connects the two boroughs, runs below the popular sightseeing overlook, and on Thursday the Department of Transportation unveiled billion dollar options to fix the shaking and vibrating highway before the DOT is forced to divert traffic onto local streets.
However, neither of the options are perfect and neighbors in the area have mixed reactions.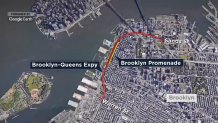 The preferred and fastest method, according to the DOT, is the elevated roadway method, which would take six years. The method would improve safety and congestion, close the promenade for three years and replace it with the temporary highway, while crews work on the existing BQE.
"I think this should stay just as it is," Brooklyn Heights resident Phil Peloquin said of the method. "There are other ways to fix it without wrecking the promenade."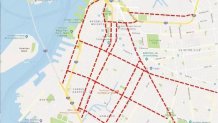 There is, however, it's far from ideal, too. The DOT said the lane-by-lane method would take even longer – eight years. Though the promenade would stay unaffected, less improvements would be made and it would mean more overnight construction and cause miles of congestion.
"This highway has such an impact on the traffic system almost in the entire city," NYC DOT Commissioner Polly Trottenberg said.
The DOT has public hearings scheduled through the fall. Once a decision is made on which method will be used, construction could begin as early as 2020.
[NATL] Top News Photos: Pope Visits Japan, and More