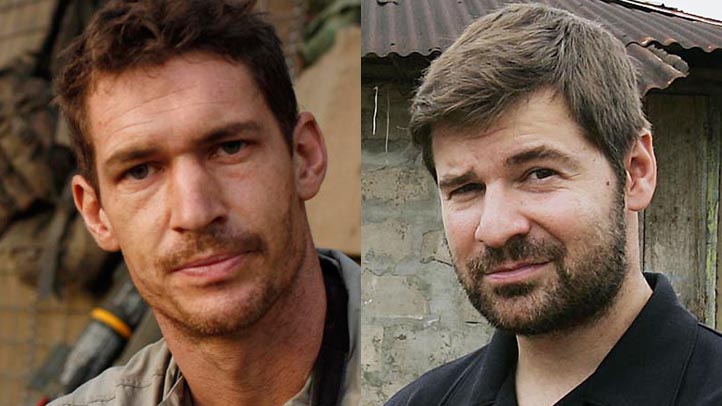 Friends and family are remembering a war photojournalist and documentary filmmaker, both based in Brooklyn, who died while covering the conflict in Libya.

British-born Tim Hetherington, of Williamsburg, spent more than a decade covering war zones around the world and is best known for his documentary film, "Restrepo," which tells the story of a platoon in Afghanistan. The film was nominated for an Academy Award in 2010.
Hetherington was killed when his vehicle was hit by a rocket-propelled grenade. Photographer Chris Hondros, also of Brooklyn, died in the same attack.

Two other journalists suffered less serious injuries, including Michael Christopher Brown who also lives in Williamsburg.
Micah Garen, a New York-based war documentary filmmaker who knew both Hondros and Hetherington, told the Daily News that "the artistic and journalistic community has lost two shining stars."
Hondros, who was to be married in August, had covered a number of conflicts, including Kosovo, Sierra Leone and Iraq, according to the News.
"Chris is the best kind of war photographer there is -- humble, cautious, always eager to help others," said Hondros friend Stephanie Gaskell, a former Daily News war correspondent and editor of The War Report.
Christopher Anderson, a friend of Hetherington and fellow photojournalist, said he was "absolutely devastated" when he learned of the attack.

"He was not only a remarkable, special journalist, filmmaker," said Anderson. "He was a remarkable human being and a remarkable friend."
Ten days ago, Anderson spoke to Hetherington about the particular dangers of the situation in Misrata. Hetherington mentioned those dangers in his last tweet: "In besieged Libyan city of Misrata. Indiscriminate shelling by Qaddafi forces. No sign of NATO.''

Still, even his colleague's awareness of the dangers couldn't prepare his family and friends for the loss they would endure.

"He had said it was particularly dangerous there because of the weapons that were used in the wide open. We talked about the possibility of losing our lives doing our jobs. He was certainly aware of the risks, but we never thought it would come to this," Anderson said.

Hetherington once said of his critically acclaimed documentary that, "We wanted to bring the war into people's living room and put it into the movie theaters, and get people to connect with it. It's not necessarily about moral outrage. It's about trying to understand that we're at war and try to understand the emotional terrain of what being at war means.''