Officials are working to hunt down several men who they say have been robbing and terrorizing young victims, mainly teenagers, in the Bronx.
The suspects, who police said are all in their late teens to early 20s, have been linked to at least eight different robberies all in the Allerton section of the Bronx in the last three weeks, according to the NYPD.
The muggers first struck Nov. 9 when they attacked a 17-year-old boy and tried to rob him before running away empty-handed, police said. They then struck two more times a few days later, getting away with two cell phones and about $5,000 in cash.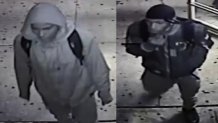 The group then struck four times on Nov. 22 and one final time on Monday, when they snatched a pair of headphones from a 15-year-old straphanger inside the Allerton Avenue station as he sat on the bench, police said.
None of the victims were serioulsy injured.
Witnesses to the robberies are urged to call Crime Stoppers with tips that could lead to the arrests of the suspects. Police have released surveillance images of at least two of the suspects.
Top Tri-State News Photos