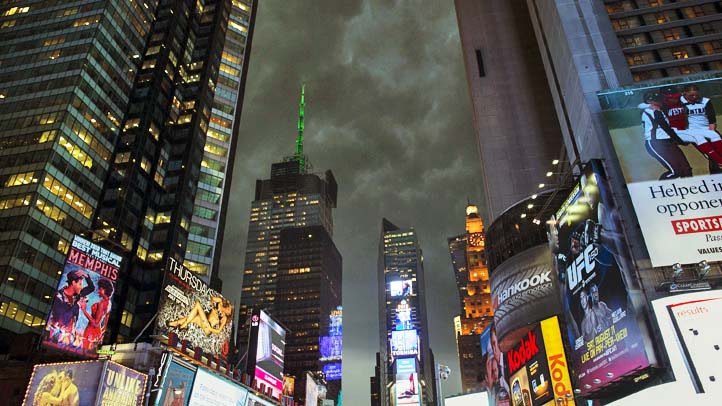 Broadway took the threat of the mammoth storm seriously, with theater owners canceling all Sunday evening and Monday performances of shows like "The Book of Mormon" ''Once" and "Mama Mia!" long before a drop of rain fell in Times Square.
"The safety and security of theatregoers and employees is everyone's primary concern," said Charlotte St. Martin, executive director of The Broadway League, which represents producers.
Forecasts called for rain late Sunday or early Monday, and subway and public transportation service is to be halted Sunday evening, potentially stranding theatergoers. Refunds will be made available from the point of purchase.
Off-Broadway shows including "Stomp," ''Bad Jews" and "Golden Child" were also canceled Sunday night. Most matinees on and off Broadway stayed open. Mondays are usually very light on Broadway, with most shows having that as their day off.
Some Broadway shows had no evening shows scheduled Sunday, including "Cyrano de Bergerac," ''Annie," ''Chaplin," ''Enemy of the People," ''Once," ''Jersey Boys" and "Nice Work If You Can Get It."
It was the most disruptive storm for the theater community since the threat of Hurricane Irene in late August 2011 prompted producers to cancel matinee and evening performances on Saturday and Sunday. While that hurricane mostly fizzled over New York, every show lost money because they were mostly limited to five or six performances that week.
Copyright AP - Associated Press