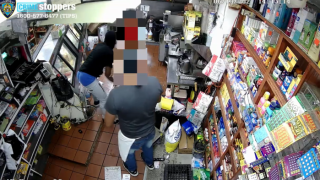 Police are looking for two suspects they say attacked a 17-year-old boy in a New York City convenience store, battering him with baking flour and butter, along with a few punches, before stealing his sneakers and running off, authorities say.
The boy was in a store on Decatur Avenue in the Bronx around 3 p.m. Sunday when the other two set upon him, police say. The attack ended with a knife to the teen's abdomen. The victim was taken to a hospital and is expected to survive.
Police released surveillance of the attack. Anyone with information is asked to call Crime Stoppers at 1-800-577-TIPS.
Copyright NBC New York