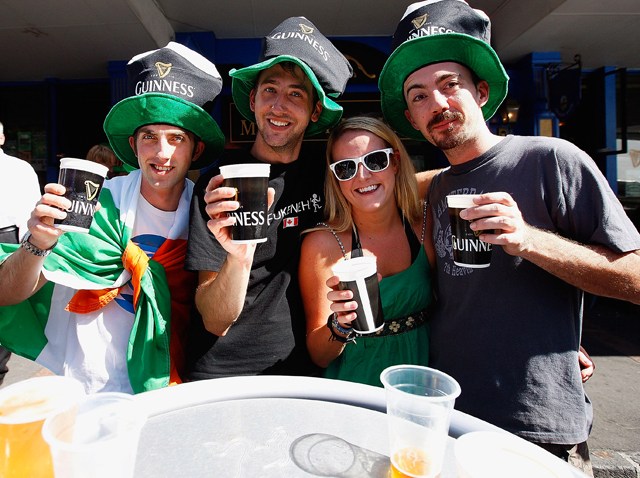 St. Patrick's Day may be 11 days away, but the party starts today in Hoboken – and the city is well prepared for one of its biggest events of the year.

The bars opened early at 9 a.m. as revelers crowded in with leprechauns and shamrocks for Hoboken's famous Saint Patrick's Day Parade, during and after which party-goers sporting Irish pride historically turn the city into a rowdy, colorful booze-fest.

This year, like most others, it's the partying, not the parading, that has police on alert. And the fines are bigger than ever.

Authorities have outlined a "zero tolerance" policy for raucous and drunken behavior at this year's parade, which kicked off at 1 p.m. at Washington and 14th Streets. Bright-colored signs posted all over the city, on lampposts and barroom doors, denote the consequences for breaking the rules: up to $2,000 in fines and possibly a night in jail.

"I think it's smart, to be honest," one parade-goer said. "I hope it doesn't happen to me."

"Most people who come out here to party don't have $2,000 to spend on fines," another said.

But it's not just bawdiness in the street that can get revelers in trouble. The heavy fines apply for unruly house parties as well.

While some protested the extensive fines and harsh punishment, the ramped up consequences are welcome news for those left behind once the party is over.

"It seems like it's a lot, but some of the people and some of the problems that have occurred have been pretty serious," one resident said.

Last year, Hoboken police issued 376 citations -- mostly for open alcohol containers – and dozens more for being drunk and urinating in public.

All of the city's police force will be on hand for this year's celebration, and cops will set up DWI checkpoints throughout the day to make sure boozed-up drivers don't get behind the wheel.

Hoboken Mayor Dawn Zimmer tweeted a message to residents last night in advance of the parade, emphasizing safety and the precautionary steps the city took to ensure it.

"Hoboken residents: We've done everything we could to ensure responsible behavior tomorrow, including added patrols around religious places," Zimmer wrote.

While the zero tolerance policy may not sit well for those particularly thirsty ones geared up for today's festivities, there is some good news. The bars open two hours earlier than usual, partly in an effort to stop loitering and keep as many people as possible indoors.

"The earlier you can drink the better, right?" said one parade-goer. "That's the whole point … to come out and have a good time."