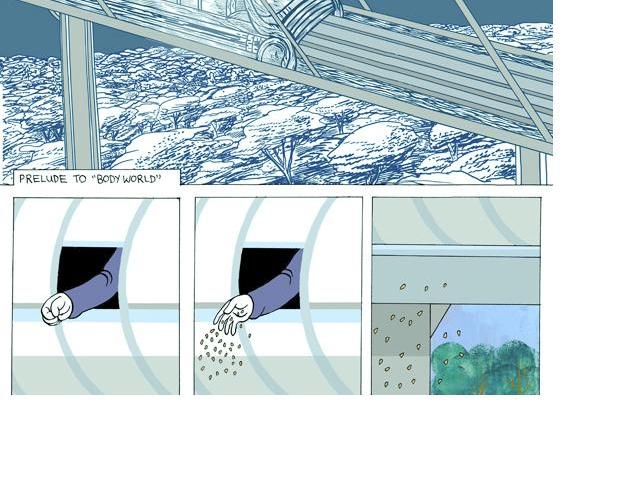 Graphic novelist Dash Shaw does not listen to ragtime music. Nor, in a similar vein, is he attached to that old-timey medium, the printed page. Or so he told an intimate gathering at the McNally Jackson bookstore in SoHo Monday night during a conversation with mentor, comic book veteran and now-collaborator Frank Santoro (Storeyville, Cold Heat).

The two artists discussed the creative process: "photo references are for suckers," says Santoro; why Japanese comics are better: "I like that the drawings are sh---y," says Shaw. "They care more about telling the story than how to draw eyes"; and why even the old ladies in France love comic books: "It's weird that [at conventions in Europe] not everyone has tattoos," says Santoro.

Shaw, a twenty-something Brooklyn-dweller entered the world of comic-book fame with his 2008 Best Graphic Novel of the Year, Bottomless Belly Button, a massive 700 page book that he worked on for years without showing it to anyone until he put it -- quite literally -- into the hands of a publisher.

Before even receiving word from Fantagraphics that they were going to print it, he began working on another project, this time, showing it to everyone. Bodyworld, released this month by Pantheon, was first published by Shaw online as a weekly serial, each chapter a vertical column, which, says Shaw "allows you to follow characters and humor without interruption" (by scrolling rather than turning a page). He advises readers to keep another tab open on your computer in order to reference the detailed map of the novel's Epcot-center like world. The book version contains foldouts intended to replicate the "tab" experience -- "It's like reading a laptop," quips Santoro -- and Shaw recommends reading it on a large table.

Shaw, who uses mainly hand drawings, but also computer effects, may appreciate the online experience as a way to "participate in contemporary culture" while simultaneously freeing himself from uncommunicative publishers and limitations imposed by the printing process itself (like cost and color restrictions) but not all artists are as eager to let go of the traditional medium. Santoro believes that turning pages are so important for developing and unfolding the plot of a novel (he calls it the "hinge process") that for an exhibit in Switzerland, he created a painting in the corner of the room -- the corner fulfilling the function of the page break.
But one thing they can both agree on is that getting more people to enjoy their work -- in whatever way -- is not a bad thing.
View it online for free here.
Buy the old-fashioned copy for $27.95 here.
Copyright FREEL - NBC Local Media