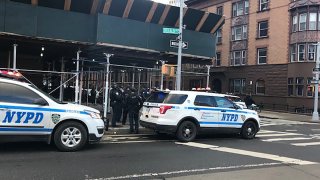 What to Know
An email threat forced the evacuation of Brooklyn Tech High School Thursday morning and prompted the NYPD bomb squad to swarm the scene
The NYPD says it received a call around 8:15 a.m. reporting the threat to the school located at 29 Fort Greene Place
Police conducted a sweep of the school and eventually issued an all clear, the city's DOE said
An email threat forced the evacuation of Brooklyn Tech High School -- the city's largest high school -- Thursday morning and prompted the NYPD bomb squad to swarm the scene.
The NYPD says it received a call around 8:15 a.m. reporting the threat to the school located at 29 Fort Greene Place in the Fort Greene section of the borough.
The threat alleged "that there was a bomb and an armed person within the school," according to NYPD Chief of Department Terence Monahan.
Heavily armed police and the NYPD bomb squad responded to the scene. According to Mayor Bill de Blasio, police conducted a sweep of the school.
Police and educators evacuated all 300 kids who were already inside. And sent more than 5,000 other arriving students to the the gym at Long Island University two blocks away.
Students and staff were redirected to nearby Long Island University in the interim, de Blasio said in a tweet.
According to the school, all students are safe.
The NYPD eventually issued an all clear, the city's Department of Education said.
The NYPD said it took a long time for the all clear because they had to send dogs all through a nine-story building. Monahan said that whoever emailed the hoax may have done it before.