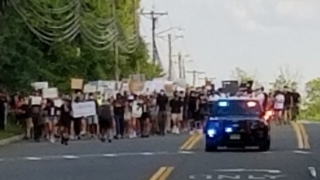 At least three protesters were injured during a Black Lives Matter protest in South Brunswick Friday when a deer ran from a nearby property into a handful of demonstrators.
Deputy Chief Jim Ryan said the incident happened Friday evening as hundreds of protesters participated in the South Brunswick March for Justice.
Three of the demonstrators suffered varying injuries including head lacerations from the deer and one was taken to a nearby hospital, Ryan said. Medics transported a woman in her 60s for a serious head injury, he said.
The two other demonstrators injured by the deer were treated at the scene, Ryan said. Two additional participants suffered heat related issues at the protest.
According to officials the large group of protesters continued on after the incident.
Copyright NBC New York