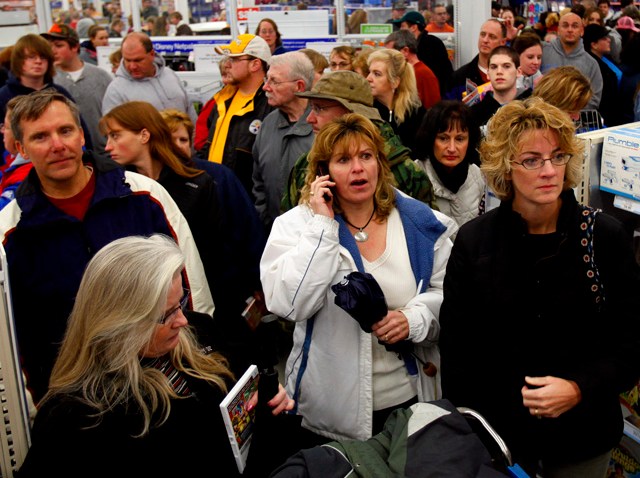 Most Black Fridays are marked by hordes of shoppers racing to get deals on luxury gifts for their loved ones for Christmas and Hannukah, but this year was a glum one for retailers.
Rather than rush out to buy that new flat-screen TV or diamond-studded watch for a family member or friend, consumers were out for themselves yesterday – buying only what they needed and staying within their budgets for the most part, according to published reports.
Hundreds, even thousands braved the cold and began lining up as early as Thursday night for their coveted purchases, but this year it was all about the basics – sweaters, gloves, earmuffs and coats, reports The New York Post.
Expensive watches and other items that could go $500 or even a thousand bucks in the store were selling for cheap on Canal Street – and some families opted to save by buying gifts for the entire group than individual toys for kids.
"This is the first time it's going to be about what the family needs, not toys that will be pushed aside in a week," Joy Donessa, a married mother of two, told the Post. "Money has been tight for us. We need to take advantage of these sales."
Last year, 42 percent of Americans bundled up and raced out to neighborhood malls and stores for Black Friday. Turnout was expected to be 10 percent higher this year, reports the Post.
Just because "Black Friday" is over, however, doesn't mean the deals have ended. Vendors on Canal Street, who told The New York Times they didn't see more customers this year than they have in years past, have been emphasizing their rep as the spot for the best deals on designer products. And they're not going away. You can also head to China Town for some good steals.
"In Chinatown, every day is Black Friday," Lopa Loma, who was selling Coach-style bags at bargain prices, told the Times.