A bicyclist was struck and killed in Williamsburg early Saturday morning by a driver who sped away, according to police.
Officers found Matthew Von Ohlen, 35, of Queens, lying on Grand Street around 2:30 a.m. with severe injuries. He was transported to Bellevue Hospital Center where he was pronounced dead, police said.
Ohlen was riding east in the bicycle lane when he was hit by a black Chevy Camaro sedan with tinted windows, investigators said.
The vehicle fled the scene and was seen traveling east on Grand Street, according to police.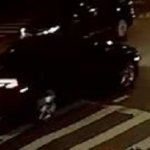 According to the New York City Department of Transportation's 2014 Bicycle Crash Data report, 1,511 bicyclists were injured in crashes involving vehicles. Six of those incidents were fatal.
Cyclist Matt Marchese told NBC 4 New York that he has a friend who suffered a broken pelvis after being hit by a bus while riding in the bike lane. However, Marchese said, he will continue to use his bike.
"It's New York City, you gotta get around," he said.