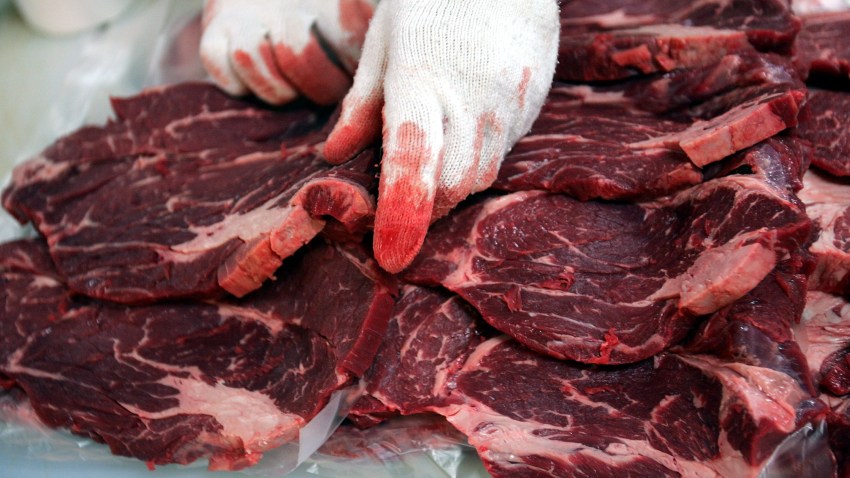 In a time of slimmed-down portions and expensive beers, two young guys hope to bring back the tradition of a genuine beefsteak feast "by grilling up 300 pounds of prime steak and chops, and serving it with bottomless mugs of beer and no forks" to a hungry crowd at Brooklyn's Bell House early next month.

The Brooklyn Paper introduces us to Derek Silverman and his cohort Andrew Dermont, two recent college grads looking beef-up the city's meat intake. Together, they've co-conspired to create the Brooklyn Beefsteak, a meaty feast planned for November 8th from 3-6pm at the Bell House, where guests will be served unlimited beef cuts, endless beer from McSorley's, and live music from the band Susquehanna Industrial Tool & Die Co.

Like all great Brooklyn food events, there will be an eating contest. The Beefsteak's flyer warns all comers of the eight pound record set in 1913 by Anthony Andesner, who defeated Harry Fredericks "in the rathskeller of the Hotel St. Denis" with three hundred members and guests looking on. In modern day burger translations, that equates to 24 32 quarter-pounders from McDonald's -- no easy task!

Tickets are $35 in advance, $30 for advance groups of four, or $50 at the door. The beef is naturally raised and aged, and patrons will leave full, possibly drunk, and holding their very own McSorley's pint glass. Visit BrooklynBeefsteak.com for more info.
Copyright FREEL - NBC Local Media