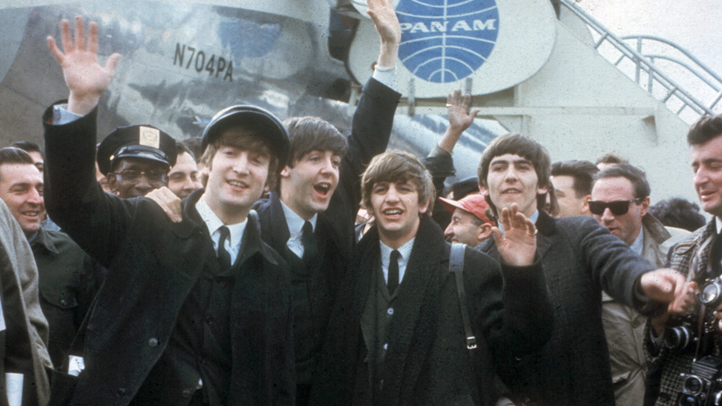 Fifty years ago Friday, the Beatles landed at JFK Airport for their first trip to the U.S., arriving to a crowd of screaming fans and reporters who were obsessed with their long hair.
Port Authority officials unveiled a marker Friday inside the airport that pays tribute to the Fab Four's historic day.
The Beatles held their first U.S. news conference at the airport after they landed, which was attended by NBC 4 New York's Gabe Pressman, pictured in one of the photos above.
The Fab Four took question after question from journalists who were seemingly puzzled by their long hair. WATCH the raw video here
"Does all that hair help you sing?" they were asked.
"Definitely, yeah," answered John Lennon.
Another asked if they'd lose their appeal without their hair.
"Don't know, don't know," Lennon said.
The reporters couldn't resist pushing:
"How many of you are bald that you have to wear those wigs?" asked another.
"I'm bald," said Paul McCartney.
"Oh we're all bald, yeah," said Lennon. "And deaf and dumb too."
Later, it came up again. George Harrison was asked if he was going to get a haircut.
"I had one yesterday," he said, to laughs.
Finally, a question about the music. What does it do for their fans?
"It pleases them, I think," said Ringo Starr.
But why are fans so excited, they were asked.
"We don't know, really," McCartney said.
"If we knew we'd form another group and be managers," Lennon said.