What to Know
Banksy, the famous and elusive graffiti artist, is apparently back in New York City
His latest, 70-foot mural unveiled Thursday protests the imprisonment of Turkish artist and journalist Zehra Dogan
The artist painted another piece on an empty bank building at 14th Street and Sixth Avenue that shows a giant rat running around a clock
Banksy is back in Manhattan.
The New York Times reports, the famous and elusive graffiti artist's new, 70-foot mural was unveiled Thursday at the corner of Houston Street and the Bowery that protests the imprisonment of Zehra Dogan, a Turkish artist and journalist who was jailed for painting the carnage of Turkish town Nusaybin.
Nusaybin was partly destroyed during a fight between Turkish and Kurdish militans in 2015, according to The Times.
"I really feel for her," Banksy said in a statement to The New York Times. "I've painted things much more worthy of a custodial sentence."
The painting, The Times reports and pictures posted to Bansky's verified Instagram account, shows black lines, apparently representing bars on a jail cell with the message "Free Zehra Dogan" written on a corner.
It isn't the only peice of his to recently pop up in NYC, however.
The artist painted another piece of work on an empty bank building at 14th Street and Sixth Avenue.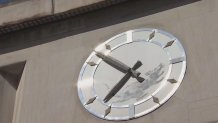 The painting shows a rat running around a clock. The art is drawing crowds to the former HSBC, which is slated to be knocked down and turned into condos.
Banksy also turned heads back in October 2013 with what he called "an artists residency on the streets of New York."
[NATL]Banksy's Art Features in West Bank Hotel With World's 'Worst View'